Let me start off today by congratulating M.J. Hur for winning the Aberdeen Standard Investments Ladies Scottish Open. Hur was one of four players tied for the lead going to the back nine, but took control with birdies on six of the last nine holes to win easily. Her final score of 20 under par was a new tournament record. Moriya Jutanugarn and Jeongeun Lee6 tied for second place four shots back. For Hur it was her third victory on the LPGA Tour and first in five years. It was the 11th win this year by a player from South Korea. They have thoroughly dominated the tour this year.
Now on to this week's subject:
Back in early April I wrote who I thought were the biggest surprises and biggest disappointments of the year. The LPGA had only played 8 tournaments at that point. So much has changed since then. The LPGA has now played 23 of the 32 tournaments on this year's schedule, and I think it is time to take another look.
Biggest Surprises: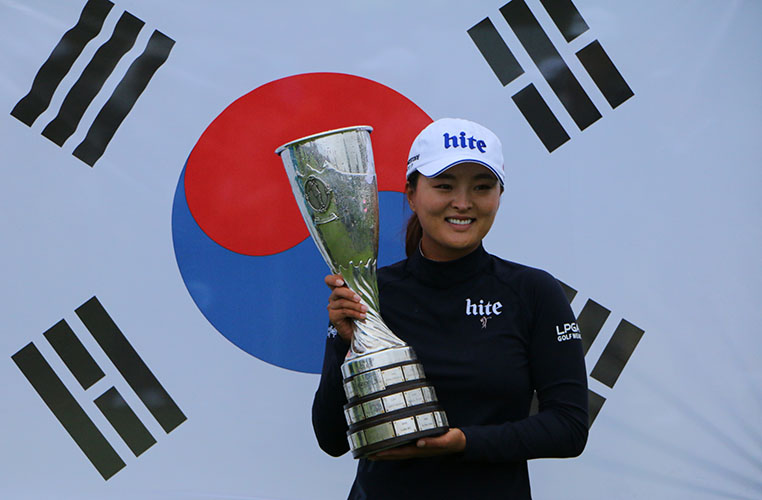 Jin Young Ko holds up her Evian Championship trophy.


1- Jin Young Ko -
Jin Young had a fine rookie season last year, winning the Louise Suggs Rookie of the Year award. She won early in the season in 2018, and although she played well most of the year, she didn't win again. It didn't take a rocket scientist to predict another solid year in 2019. But who could have predicted this? Ko has dominated the 2019 LPGA season so far.
Not only is she the only player to win three times this year, two of those wins were major championships! She is now the No. 1 ranked player in the world and has a chance to sweep all the 2019 season ending awards.
2- Celine Boutier -
When the 2019 LPGA season started, not too many people knew who this player was. That all changed when she started her season by winning the ISPS Handa Vic Open. She proved that was no fluke by contending several times since. She has four top ten finishes, and nine top twenty-fives. Last year she finished No. 64 on the money list, she now sits at No. 20.
3- Mi Hyang Lee -
Lee is having quite the bounce-back season. After a disappointing season in 2018 that saw her finish No. 63 on the money list, she is having one of the best seasons of her career. She has amassed two top five, three top ten, and seven top twenty-five finishes. She has made 14 of 17 cuts, and now sits at No. 25 on the money list.
4- Ally McDonald -
Some might say "who", but if you did you haven't been paying attention. Ally started to play well last season when she had a career best No. 65 money list finish. This year she has been much better. Her third place finish at the ShopRite Classic has been her best finish, but it has been the major championships where she has really shined. She finished sixth at the ANA Inspiration, 10th at the U.S. Women's Open, and 11th at the Evian Championship. Add to that a 21st place finish at the AIG British Open, and it certainly explains why she is all the way up to No. 28 on this year's money list.
5- Jennifer Kupcho -
Choosing to stay in school and get her degree instead of starting the year on the LPGA Tour is always a smart life decision. That said, starting the season five months late
makes it very difficult to maintain your LPGA full time (finishing in the top 80 on the money list) playing privileges. Not for Jennifer! Her 2nd place finish at the Evian Championship coupled with her 5th place finish at the Marathon Classic has her already up to No. 37 on the money list.
Honorable mentions: Yu Liu, Bronte Law, Gaby Lopez, Brittany Altomare, Jing Yan.
Biggest Disappointments:
Georgia Hall heads my list of the year's biggest disappointments.


1- Georgia Hall -
Georgia charged onto the LPGA last season winning the Ricoh British Open Championship and finishing runner-up in the Louise Suggs Rookie of the Year race. Just as impressive was her season ending No. 21 finish on the money list. This season has been a struggle. After recording a ninth place finish in her first event of the year (in a field of just 26 players), she has failed to finish in the top twenty in any of her other sixteen starts. She currently finds herself sitting at No. 70 on the 2019 money list.
2- Angela Stanford -
Playing in her eighteenth season on the LPGA Tour, Angela had one of her finest seasons in 2018. The season included a win at the Evian Championship, her first major championship victory. This season it appears that age may be finally catching up to her (she will turn 42 in November). In eighteen starts this year, she does not have a top twenty finish. She is currently No. 94 on the money list.
3- Pernilla Lindberg -
Like Georgia and Angela above, Pernilla also won a major championship last year (the ANA Inspiration). That finish was the primary reason for her 29th place finish on the 2018 money list. This season she does not even resemble that player. In twenty starts she has not recorded a single top twenty finish, and has missed the cut on eight occasions. Her current spot of No. 100 on the money list would normally have her worried about losing her playing privileges for next year, but that major championship win last season guarantees her full time playing spot for 2020.
4- Ryann O'Toole -
This nine year veteran had by far her best season in 2018, finishing No. 32 on the year end money list. It appeared she would have a good shot at making the 2019 Solheim Cup Team. That chance has all but disappeared based on her 2019 results.
In eighteen starts this year she has finished inside the top thirty-five only twice. Her playing privileges for 2020 still appear safe, but dropping to No. 72 on the money list is still a big fall.
5- Jennifer Song -
Like Ryann above, Jennifer also had her finest season in 2018 where she finished No. 36 on the money list. This year has been a different story as she has fallen all the way down to No. 85, and any chances she had of making the Solheim Cup team have faded away.
Other disappointments
: Lindy Duncan, Emma Talley.
Other Tidbits
:
In case anyone missed it. Gabriela Ruffels won the 119th U.S. Women's Amateur Championship. You can find my full recap here.
Rolex Rankings Movers of the Week:
There was not any significant movers among LPGA players in the top forty this week. M. J. Hur leaps from No. 79 to No. 43, while Anne Van Dam enters the top 100 (and my field list) moving up from No. 101 to No. 93.
Race to the CME Globe:
(Top 60 point earners to compete for $1.5 million first place prize).
Jin Young Ko continues to lead with 3,437 points. She is followed by Jeongeun Lee6 with 2,341 and Sung Hyun Park with 2,286. Minjee Lee with 2,279 and Brooke Henderson 2,228 round out the top five.
Aon Risk Reward Challenge:
(1 million dollars)
Lee-Anne Pace leads (but probably will not have enough rounds at end of season to qualify) with a score of -8.18. She is followed by Hyo Joo Kim -0.769 and Carlota Ciganda -0.722.
Who's Hot:
Both Moriya and Ariya Jutanugarn have finished in the top eleven, four consecutive weeks.
Who's Not:
Lindy Duncan has missed the cut in her last three starts.
This Week's Trivia Question:
There are only three players on the LPGA Tour who have not missed a cut this entire season. How many can you name?
Be sure to check back in a day or two when I will be rating the 2019 LPGA rookies.