Before I get started with this week's tournament, I want to congratulate Sei Young Kim for winning the Marathon Classic. Kim started the final round with a one stroke lead over Lexi Thompson. When she birdied holes 7,8,9,10, and 11, she increased her lead to six shots. Thompson would finish with a birdie on the 17th hole and an eagle on the 18th, but would fall two shots short. For Kim, it was her ninth victory on the LPGA Tour.
This week the LPGA moves back to the state of Michigan for the playing of the Dow Great Lakes Bay Invitational.
This will be tournament No. 20 of 32 on this year's LPGA schedule.
Official event rounds begin Wednesday July 17, and continue through Saturday July 20. The format will feature foursomes during the first and third rounds and four-ball during the second and fourth rounds. After 36 holes, the field will be a cut to the low 35 teams and any ties for 35th. In the event of a tie after 72 holes, the champions will be determined by a hole-by-hole playoff using the foursomes format.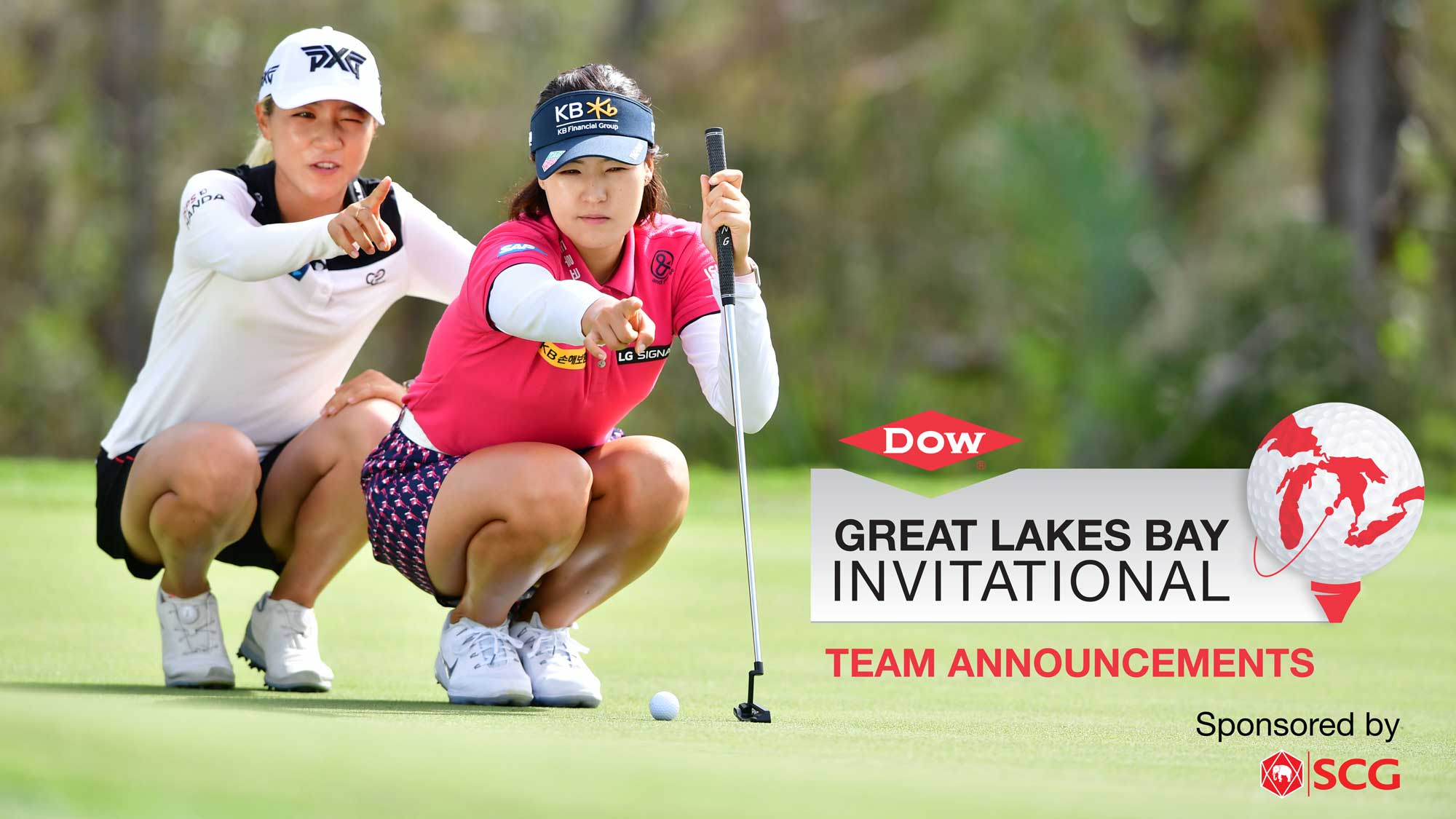 Lydia Ko (L) and In Gee Chun (R) will be teaming up this week.
Here are the Key Details
:
Course: Midland Country Club
Location: Midland, Mi.
Defending Champion: N/A
Winning Score: N/A
History: This is the inaugural playing of this event
Final Field:
144 players (72 teams)
Par: 36/36 = 72
Yardage: 6,599
Purse: $2,000,000
Race to the CME Globe: 500 points
Aon Risk/Reward Hole: None
Rookies Maria Fassi (L) and Jennifer Kupcho (R) will be teaming up.
Some of the teams you will be seeing this week include:
Jin Young Ko and Minjee Lee
Jessica Korda and Nelly Korda
Lydia Ko and In Gee Chun
Lexi Thompson & Cristie Kerr
Jennifer Kupcho and Maria Fassi
Brooke Henderson & Alena Sharp
Ryann O'Toole & Jacqui Concolino
Amy Yang and Mirim Lee
Angel Yin and Yu Liu
Gerina Piller and Stacy Lewis
My strength of field rating is 60%. Thirty-five of the top 50 players from the LPGA Priority List, and 26 of the top 50 players from the Rolex Rankings will be in attendance. The field will be led by top ten ranked players: Jin-Young Ko, Lexi Thompson, Minjee Lee, Ariya Jutanugarn, Nasa Hataoka, Brooke Henderson, and Nelly Korda. Players skipping the event this week include: Sung Hyun Park, Inbee Park, Jeongeun Lee6, So Yeon Ryu, and Carlota Ciganda.
This tournament will have a Wednesday start and a Saturday finish!
For a
photo gallery of this event press here
.
Here are the television times:
July 17 - GC 4:00 PM- 6:00 PM ET
July 18 - GC 8:00 PM- 10:00 PM ET (tape delay)
July 19 - GC 8:00 PM- 10:00 PM ET (tape delay)
July 20 - GC 6:00 PM- 8:00 PM ET
Teams Most Likely to Win:
1-
Jin Young Ko & Minjee Lee - How can you bet against these two?
2- Lexi Thompson & Cristie Kerr - Have played together before.
3- Jessica & Nelly Korda - Don't bet against these siblings.
Teams To Watch Out For:
1- Hyo Joo Kim & Eun-Hee Ji
2- Ariya & Moriya Jutanugarn
My Longshot Pick:
1- Jennifer Kupcho & Maria Fassi - Two dynamic young players.
Other Tidbits
:
Lexi Thompson's 2nd place finish was her 6th top five finish this year. Nobody on the LPGA Tour has more.
Rolex Rankings Movers of the Week:
Lexi Thompson makes the most important move as she takes over the No.3 spot. Surprisingly last week's winner Sei Young Kim only moves up one spot to No.11. Stacy Lewis leaps up from No. 83 to No. 65. Outside the top 100, Jennifer Kupcho soars up 122 spots from No. 445 to No. 323.
Race to the CME Globe:
(Top 60 point earners to compete for $1.5 million first place prize)
Jin Young Ko still leads with 2,412 points. She is followed by Sung Hyun Park with 2,055 and Lexi Thompson with 2,051. Brooke Henderson (2,045) and Jeongeun Lee6 (1,941) round out the top five.
Aon Risk Reward Challenge:
(1 million dollars)
Lee-Anne Pace still leads with a score of -0.800, she is followed by Hyo Joo Kim -0.750 and Ariya Jutanugarn -0.719.
Who's Hot:
Lexi Thompson has finishes of 2nd, 1st, 2nd, and 2nd in her last five starts.
Who's Not:
Haeji Kang has failed to record a top twenty-five finish in any of her fourteen starts this year.
Here are the final results:
1. Clanton/Suwannapura -27 F
2. Ko/Minj. Lee -21 F
3. M. Jutanugarn/A. Jutanugarn -20 F
3. N. Choi/Shin -20 F
5. Henderson/Sharp -19 F
6. Khang/A. Park -18 F
6. Kaufman/Tamulis -18 F
6. Ji/H.Y. Kim -18 F
6. I. Chun/Ko -18 F
6. Creamer/Pressel -18 F
11. Meadow/Molinaro -17 F
12. Kang/Salas -15 F
12. J. Korda/N. Korda -15 F
12. Song/H. Park -15 F
12. Anannarukarn/Thanapolboonyaras -15 F
12. L. Kim/Schmelzel -15 F
12. Nordqvist/Hedwall -15 F
12. Boutier/Icher -15 F
12. Feng/R. Liu -15 F
20. Altomare/Szokol -14 F
20. Mir. Lee/Yang -14 F
20. T. Chan/Chien -14 F
23. Green/Holmquvist -13 F
24. Y. Chun/Uriell -11 F
24. Ashok/Stahle -11 F
24. Duncan/McDonald -11 F
This Week's Trivia Question:
Be sure to check back here daily for any LPGA news or updates. They will be posted here at the bottom of this blog.
Tournament results will be posted here at the end of each round.
Links to all Women's Tour scoreboards can be found on the right side of this page
(or o
n pull down menu on mobile website).