This was the first year that the LPGA participated in the ISPS Handa Vic open, and it was won by one of its own members.
Celine Boutier becomes a first time LPGA winner
Celine Boutier is the winner of the 2019 ISPS Handa Vic Open.
Boutier started the final round two strokes behind third round leader Kim Kaufman. When Kaufman birdied the first hole, she increased her lead to three strokes. Boutier would then bogey both the 2nd and 4th holes, but that was matched by Kaufman's bogeys on 3 & 4. Things turned around on the 5th hole when Kaufman double bogeyed and Boutier birdied. They went to hole number six all tied up at seven under par.
Meanwhile, Sarah Kemp, who started earlier in the day, shot a seven under par 65 to finish at six under par. Boutier would then birdie the 6th hole to take the lead for the first time at eight under par. Boutier maintained that one shot lead until Kaufman bogeyed number 10, stretching her lead to two strokes. Both players bogeyed the thirteenth hole, and the margin was still two strokes. Kaufman would struggle down the stretch and finish with a 6 over par 78, finishing tied for 8th place. When Boutier birdied the 15th hole it was all but over.
Boutier's total of 69-71-69-72 = 281 (-8) was two strokes better than runners-up Sarah Kemp, Su Oh, and Charlotte Thomas.
Boutier was an LPGA rookie in 2017, but played in just one tournament, missing the cut. She got off to a terrible start in 2018, missing the cut in 5 of her first 6 starts, but finished the year making 15 of her last 19 cuts and ending up No. 61 on the year end money list. She had just one career top ten, finishing 3rd at the Blue Bay LPGA last November.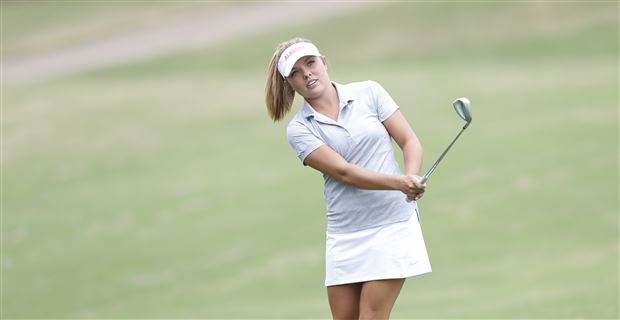 Lauren Stephenson started out her LPGA career with an 8th place finish.
Also making a big splash was rookie Lauren Stephenson. Lauren,
who I profiled just a few days ago
, was making her debut as an LPGA member. Her score of 69-72-76-68 = 285 (-4) was just four shots off the lead, and good enough for an 8th place finish.
The LPGA will stay in Australia this coming week for the playing of the ISPS Women's Australian Open. I will have my preview here tomorrow.
This Week's Trivia Question:
Who was the last repeat winner of the Vare Trophy?
For the answer to
this week's trivia question press here.