We are just about a week away from the beginning of the 2019 season.
With 34 tournaments on the schedule (including the Solheim Cup), this year promises to to be one of the most exciting ever.
With the LPGA getting more and more talented each and every year, it is very difficult to narrow this down to just 40 players.
I am going strictly by where I think they will finish on the 2019 money list.
Here are my top 40 picks for the 2019 season: (last year's actual money list finish is in parenthesis)
1- Ariya Jutanugarn (1)
- Ariya is coming off one of the greatest seasons in LPGA history. She won every single season ending award that she was eligible for. How could you possibly bet against her doing it again? I certaintly won't.
Look for Ariya Jutanugarn to repeat as the #1 player in 2019.
2- Lexi Thompson (9)
- Lexi is the only other player on tour that plays Ariya's game. Like Jutanugarn above, Lexi can overpower a course. She ended the 2018 season by winning the CME Group Tour Championship, her 10th career victory. To challenge for player of the year she will have to stay healthy and avoid the controversies and struggles that seem to follow her on and off the course.
3- Sung Hyun Park (3)
- It was a very strange and uneven year for Park in 2018. Although she won three times, she seemed to be missing in action for most of the season. She managed just seven top ten finishes, and missed an equal amount of cuts. Her putting average of 30.18 (113th on tour) must improve if she wants to regain the #1 position she lost last year.
4- Nasa Hataoka (5)
- Nasa was by far the biggest surprise of the 2018 season. After losing her playing card after her rookie (2017) season, she went back to Q-School where she finished in first place. She went on to win twice in 2018. Look for more of the same this season.
5- Minjee Lee - (2)
- Minjee had her best season ever in 2018. Her 13 top ten finishes were only topped by Ariya Jutanugarn. I look for a slight drop off this year, but will still finish in the top five.
6- Brooke Henderson (6)
- At age 21, and just a bit more than 3 seasons on the LPGA Tour, Brooke has already won 7 times. She joins Ariya Jutanugarn as the only LPGA players that have had multiple victories in each of the past 3 seasons. Can she make it four in a row? Don't bet against it.
Can Brooke Henderson win the CP Women's Open again.
7- So Yeon Ryu (6)
- After producing 6 consecutive seasons with at least ten top 10 finishes, So Yeon managed only seven in 2018. One of the most consistent players on tour, you scratch your head and wonder why she doesn't have more than her six career victories on the LPGA. In my opinion she is the most likeable player on tour, and we'll all be hoping she can turn some of those top tens (she has 82 of them) into victories in 2019.
8- Nelly Korda
(13) - Nellie, the younger sister of LPGA player Jessica Korda, really came into her own in 2018. She registered her first LPGA victory, and in just her second season on tour, she climbed all the way up to #13 on the money list. Look for her to improve on that this coming season, and finish in the top ten.
9- Jin Young Ko (10)
- Ko exploded onto the scene in 2018, winning in her first start of the season. Although she would not win again, you could find her on the first page of the leaderboard practically every week. Look for more of the same this season.
10- Danielle Kang (11)
- Danielle made her first career victory a major championship in 2016. She proved it was no fluke by winning again this past season. Look for her to improve a bit again this year.
Danielle Kang will be trying to win for the 3rd consecutive year.


11- Sei Young Kim (7)
- When this golfer gets on a roll, she has proven she can be among the best. Unfortunately, those rolls don't come often enough. I look for her to fall back slightly this coming season.
12- Georgia Hall (21)
- Players coming over from the LET have generally not fared that well on the LPGA. That was not the case with Georgia, as she won a major championship (the Ricoh British Open) in her rookie year. She only had two other top tens, so that number will have to rise in order for her to finish as high as I have placed her.
13- Carlota Ciganda
(8) - Carlotta won more prize money on the LPGA Tour last season than any other non-winner. If she doesn't win this year, don't expect her to finish in the top ten again.
14- Jessica Korda (18)
- The fact that her younger sister (see Nelly above) finished higher than her on the 2018 money list, should motivate her this coming season. I think it will be a friendly but focused competition between the two sisters. Look for Jessica to move up to this position this year, but not high enough to finish ahead of Nelly.
15- Lydia Ko
(17) - After winning twelve times as a teenager on the LPGA Tour, Lydia has won just once in the last two years. Her average driving distance of 245 yards ranked 134th on tour in 2018, and has now become a problem. Lydia will continue to be competitive because the rest of her game is so good. But don't expect to see the results she got earlier in her career.
16- Jeonguen Lee6 (N/A)
- Picking rookies is always tough. We know Jeongeun is next in line to be the latest Louise Suggs Rookie of the Year from Korea, but how good will she be. My guess is she will finish about here.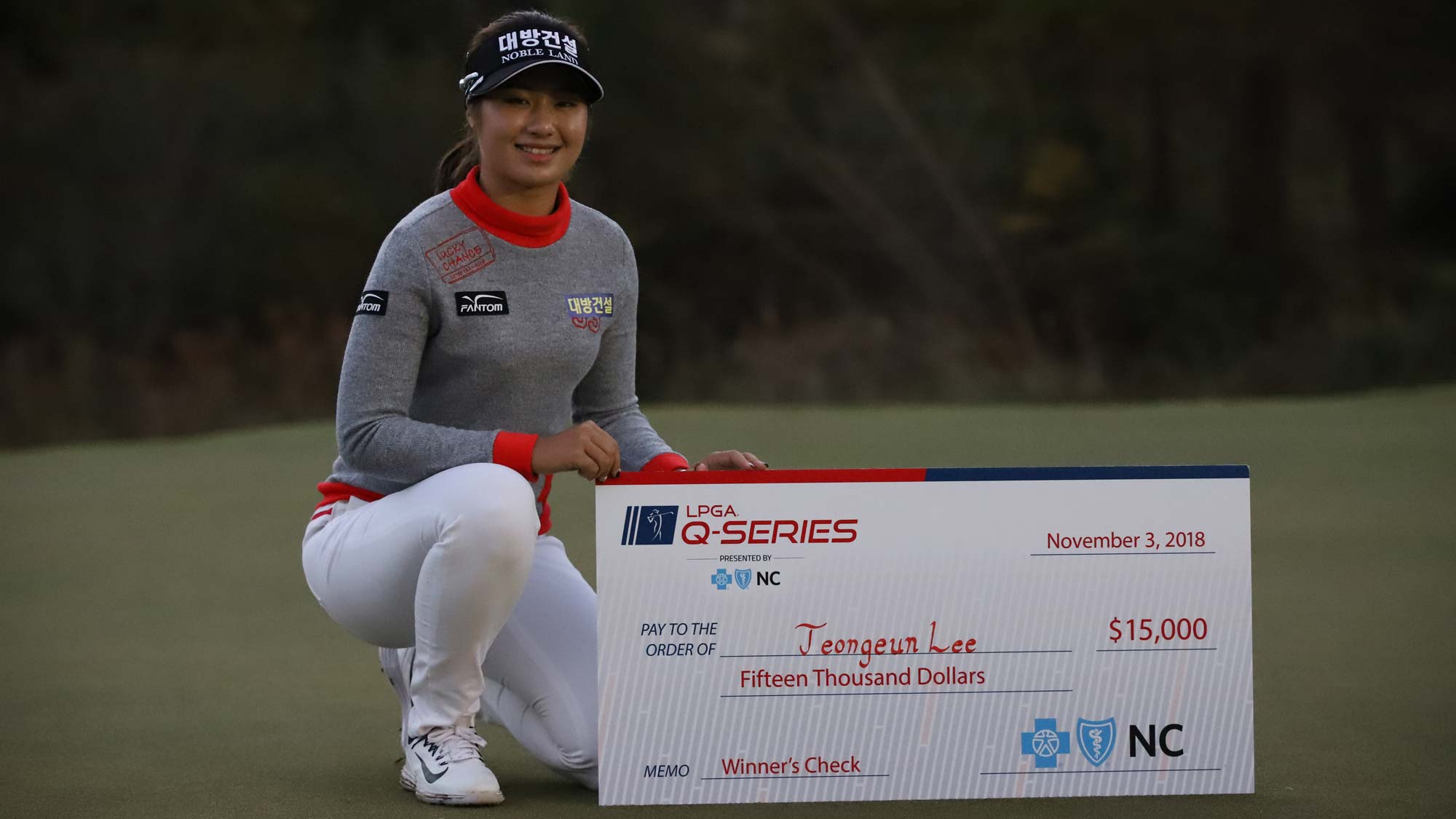 Jeongeun Lee won the inaugural LPGA Q-Series. She will be the top rookie of 2019.
17- Moriya Jutanugarn (14)
- Moriya cooled off in the second half of the season, registering just one top ten in her last 13 starts. I think she is capable of winning again, but will slip a bit again this year.
18- Marina Alex (17)
- Marina has gotten better every year. She got her first LPGA win in 2018. Getting the second one is sometimes tougher. I look for another solid year.
19- In Gee Chun - (26)
- Although she did pick up a victory towards the end of the LPGA schedule, it was not a good year for In Gee. She had just four top tens all year. A big fan favorite, I look for her to bounce back some in 2019.
In Gee Chun will bounce back in 2019.
20- Inbee Park (15)
- Inbee is the most difficult player on tour to predict. Golf has become a part-time job for her as she played just 13 events in 2018. She could finish on the top of this list, or not make it at all. I will play it safe and put her in the middle.
21- Anna Nordqvist (47)
- If anyone has seen the real Anna Nordqvist please let me know, because I havent seen her since the end of 2016. The player we saw in 2017 did not resemble the veteran star that has been on the LPGA for over a decade. My guess is that she will return to form this coming season.
22- Shanshan Feng (27)
- Another player that had a very disappointing season in 2018. After leading the LPGA in top tens in 2017, she had just six this past year. I think her better days might just be behind her, but she will bounce back some this coming season.
23- Charley Hull (19)
- Charley has never made a secret of the fact that playing golf is just her job and not her life. She has all the tools to be a top ten player, but yet I don't think we will get to see it. As it is, this is still a very good player who will occasionally contend, and have another solid, if not spectacular, season.
24- Austin Ernst (20)
- Not a household name, but a player that finishes about here every year. Look for more of the same in 2019.
25- Michelle Wie (39)
- Another player whose season is almost impossible to predict. She showed us early last year that when she is healthy she still can win. The big problem is that she almost never is healthy. If she can tee it up twenty-five times this coming season, she will make this placement look foolish.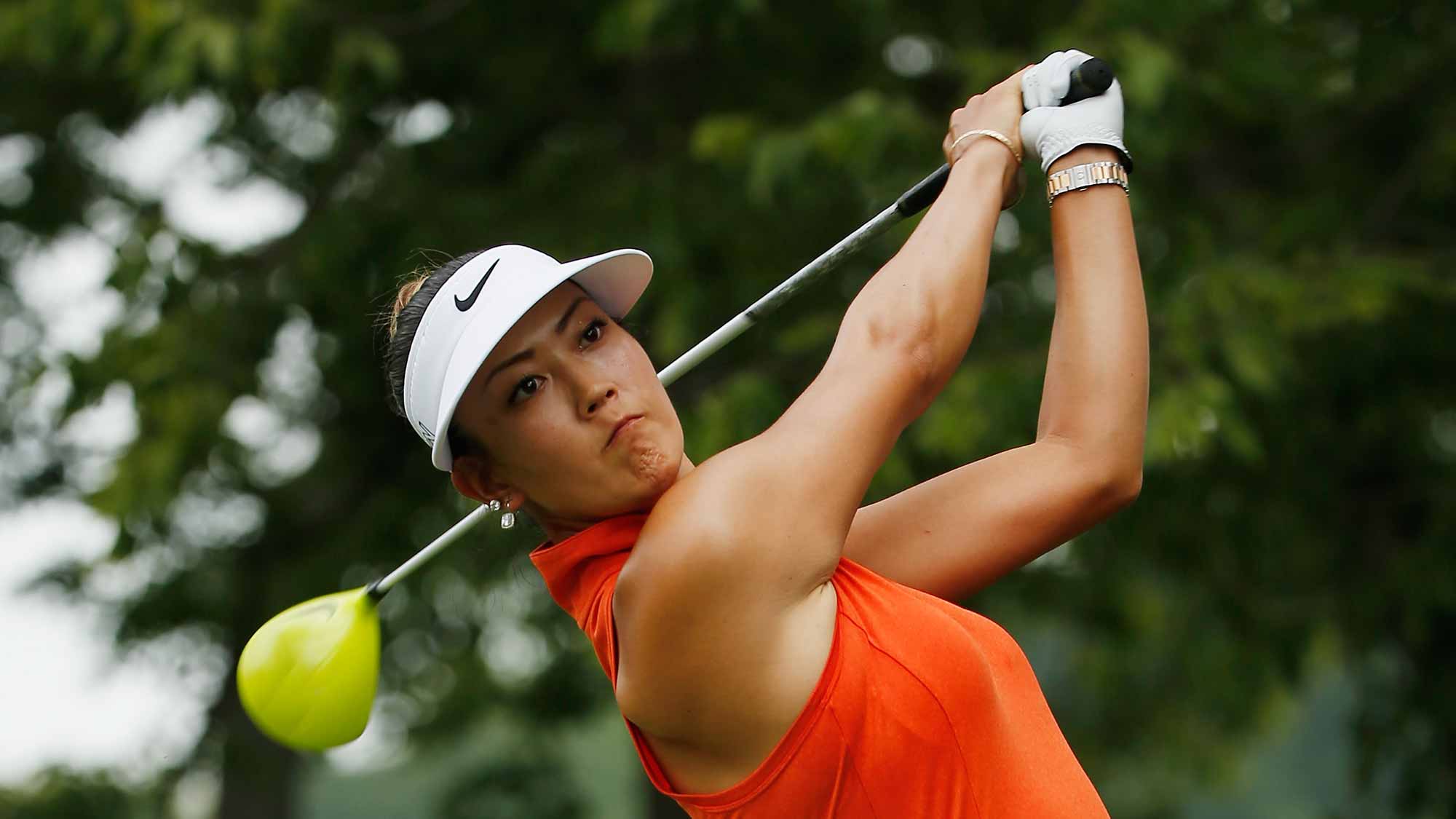 Can Michelle Wie stay healthy in 2019?
26- Megan Khang (35)
- There were several American players that won for the first time in 2018. Look for this player to get her maiden win this coming year.
27- Angel Yin (30)
- Angel finished 44th on the money list in 2017, her rookie year. She moved up fourteen spots to #30 in 2018. So why do I feel like she has been a disappointment? I think it's because she has all the tools of a superstar, if she could just keep her drives in the fairway. Last year she found the fairway just 52% of the time. That was 163rd on tour! Only 165 players were ranked. When (or if) she starts to find the fairway, watch out. She could get that first victory and finish higher than this.
28- Amy Yang (24)
- It is puzzling to me that this player can go a full season without a win. The fact that she has been on the LPGA Tour for more than a decade, and has just 3 victories has me scratching my head. If you have seen her play, you would think she should contend every week. She will be 30 this coming season, so the years are starting to slip away. Until she shows that she can put four (not 3) good round together, I can't put her higher than this.
29- Lizette Salas (23)
- Lizette had several chances to win this past season, but failed to finish the job on Sunday. A solid player, but one I can't put higher than this.
30- Brittany Lincicome (22)
- The good news is that Brittany won the first tournament of the year in the Bahamas in both 2017 and 2018. The bad news is that tournament is no longer on the schedule. For that reason I will drop her a bit this year.
31- Bronte Law (41)
- Bronte was amongst the top players in top 25 finishes this past year. I look for her to turn some of those finishes into top tens in 2019.
32- Eun He Ji
(28)
- I am putting her on this list only because she makes me look bad every time I leave her off.
33- Amy Olson (37)
- A big college star, Amy struggled to keep her card her first few years on tour. She finally came into her own last year, and actually led more than once on Sunday before dropping down the leaderboard. That first win is always so hard to get, but she just might get it this coming year.
34- Jennifer Song (33)
- Jennifer had her best year on tour in 2018. Look for more of the same this coming season.
35- Stacy Lewis (99)
- Stacy missed almost all of last year on maternity leave. She is scheduled to play the year's first tournament in 2019. Predicting how she will play is tricky. I think she will find her way back and finish about here.
36- Ryann O'Toole (32)
- A Veteran on the LPGA Tour, Ryann had her best year by far in 2018. I have never put her on this list before, so I am hoping she can have a similar season in 2019.
37- Azahara Munoz (38)
- She is still looking for her first stroke play victory (she did win a match play event) and probably won't get it this year. She will get enough top tens to finish about here.
38- Cristie Kerr (51)
- Cristie had a very poor year (by her standards) in 2018. Maybe father time is finally catching up to her. We will have a much better idea after this season. My guess is she will play well enough to make this pick look good.
39- Lauren Stephenson (N/A)
- I really wanted to put a second rookie on this list, but choosing the right one (if there is one) became a difficult task. Lauren's college play (University of Alabama), her amateur record, and her bulldog determination, convinced me that she should be the one. Don't let her size fool you (only 5 foot 3 inches tall), she is a bomber who hits it straight.
Lauren Stephenson
40- I.K. Kim (50)
- I.K. only plays about half the tournaments on the LPGA schedule (just 16 of 33 last year), so picking her higher than this doesn't make much sense. If she played regularly she would be in my top ten.
Player most likely to make me look foolish for leaving her off this list - Kristen Gillman (Rookie and 2X amateur champion)
This weeks trivia question:
How many different players occupied the #1 spot in the Rolex Rankings in 2018?
For the answer to
this week's trivia question press here

.