With the 2018 season in the books, I would like to look back at the players that I thought gave us the most surprising seasons, and those who disappointed. This is based purely on my expectations of these players coming into the 2018 season. You won't see names like Brooke Henderson or Ariya Jutanugarn on here, as we certainly expected them to have big years. Some of these players aren't household names, but had unexpected results this season.
Biggest Surprises:
Nasa Hataoka (shown here after winning the Walmart NW Arkansas Championship) was the year's biggest surprise.
1- Nasa Hataoka
- Winner of the 2016 Japan's Women's Open Championship as a 16 year old, she came came onto the 2017 LPGA Tour with very high expectations. She did not live up to those expectations as she made just 7 cuts in 19 starts (finishing #140 on the year money list) and lost her playing privileges. She then went back to Q-school where she not only earned back her card, but was the medalist. Our expectations were much lower for the 2018 season. Who could have possibly predicted that she would win twice, register 11 top tens, and miss just 3 cuts in 24 starts. She finished the year #5 on the money list and was by far the year's biggest surprise.
2- Jin Young Ko
- There are many fans of the KLPGA Tour that will say that her success in 2018 was no surprise at all. I picked her as the year's top rookie before the season (a no-brainer really), but finishing in the top ten on the money list? I was not not ready to make that kind of prediction. Success on other tours doesn't always translate into success on the LPGA Tour. I always say "show me." She showed me. A winner in her first start in 2018, she accumulated 13 top ten finishes, and missed just one cut all year. And yes, she finished #10 on the money list.
3- Nelly Korda
- Nelly had a fine rookie season in 2017 finishing #47 on the money list. The only question coming into this season was if she could get that first win. She not only succeeded in achieving that goal, but had 8 top tens and improved all the way to #13 on the money list.
4- Wei Ling Hsu
- Wei Ling did not make a big impression on the LPGA her first three seasons finishing #60 (2015), #103 (2016), and #71 (2017) on the year end money list. She certainly made big strides this past season. She finished the year making 20 of 28 cuts, had 2 top fives, 4 top tens, and moved all the way up to #31 by season's end.
5- Ryann O'Toole
- A veteran of 8 seasons on the LPGA Tour, she has managed to keep her playing privileges but it has never been easy. On a tour where it seems most players peak at a very young age, Ryann seems to be the exception. She had a breakthrough year in 2018, registering 2 top fives, and 3 top tens. Making cuts has always been a challenge for her throughout her career, but not this year as she missed only 4 cuts in 26 events. She finished #75 on the money list in 2017, but jumped all the way up to #32 this year.
6- Amy Olson
- A rookie in 2014, it had been a struggle for Amy until this year. She played her best golf in the Major Championships, where she had the lead for the better part of three rounds at the ANA Inspiration before settling for a 9th place finish. She finished 18th at the KPMG Women's PGA Championship, and 2nd at Evian Championship. Last year she finished #97 on the season ending money list, this year she catapulted all the way up to #37.
7- Bronte Law
- Bronte had a very quiet but solid season. very few times was she in contention on Sunday, but she always seemed to walk away with a nice paycheck. She finished the season with 4 top tens, but that doesn't tell the whole story. She ranked among the tour leaders with 15 top 25 finishes, and missed just three cuts all year. She moved up from #93 on last year's money list to # 41 this year.
8- Lindy Duncan
- Like Bronte above, Lindy had a very consistent 2018 season. Her second place finish in Texas was the highlight of her season that included 2 top fives, 3 top tens, and 11 top 25 finishes. She moved up 40 spots this year to #42 on the year end money list.
Honorable Mentions
: Pernilla Lindberg, Annie Park, Yu Liu, Marina Alex, Megan Khang.
Biggest Disappointments: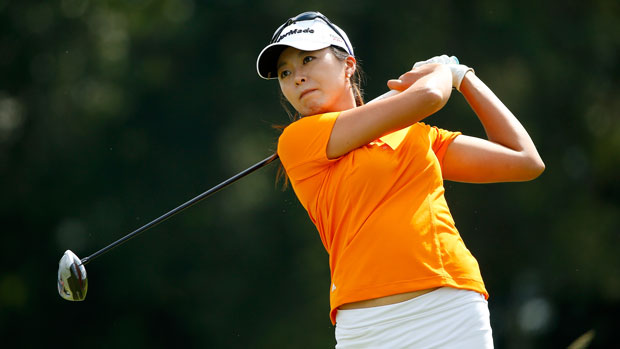 Mi Jung Hur was the year's biggest disappointment.


1- Mi Jung Hur -
Mi Jung had a career year in 2017, so a slight drop off was expected. Not having a single top 20 finish the entire season was certainly not expected. She managed to make just 7 cuts in 19 starts, and dropped from #14 on last year's money list all the way down to #97.
2- Haru Nomura
- A three time winner on the LPGA Tour, Haru 's game started slipping in the second half of the 2017 season. In 2018 she managed to make just 8 cuts all season and failed to register a single top 30 finish. She has fallen from #11 on the money list in 2016 to #35 in 2017, and dropped all the way to #133 this year.
3- Cristie Kerr
- Cristie had a terrific year in 2017 so I guess we expected her to follow it up with another one this year. It didn't happen. Although it wasn't a terrible season, she never really seemed to get any momentum going. She managed just 2 top ten finishes, and fell from #7 the previous year to #51 this year.
4- Mirim Lee
- When we turned on our TV sets the past few years Mirim had been a fixture there. This year I can't even remember seeing her. A top ten machine in previous years, she managed just two this season. She fell from #20 in 2017, to #68 on this year's money list.
5- Brittany Lang
- This five time member of the United States Solheim Cup team has been a solid players for many years now. A U.S. Women's Open Champion just two years ago, her game has fallen substantially since. She did not register a top twenty finish all year, and finished all the way down at #127 on the money list.
6- Candie Kung
- Another very solid veteran who disappeared in 2018. She had a very similar season to Brittany Lang, not registering a single top twenty and finishing #122 on the money list.
7- Alison Lee
- This one is harder to explain. Her career has just fallen off a cliff. Her best finish in 2018 was 42nd place. She finished #155 on the money list. On the positive side, after losing her playing privileges she went back to the Q-Series and earned back her card for 2019. Can she get her game back? We will have to wait and see.
Other Disappointmenting seasons
: Catriona Matthew, Hee Young Park, and In Gee Chun (in spite of her win).
This weeks Trivia Question:
How many players successfully defended their 2017 LPGA titles in 2018?
For the answer to
this week's trivia question press here.