Trying to predict the LPGA has become a very difficult task
. With more and more great players joining the tour every year, we are seeing much more parity. Yet, I keep on trying. I keep putting myself out there at the beginning of every season.
The 2018 season was full of surprises:
There were 26 different winners
There were just 4 multiple winners
There were winners from 10 different countries
There were 9 players who won their first LPGA tournament
There were 5 different major championship winners
There were 2 rookie winners
Once again it was a year that was very, very difficult to predict. But I gave it a try.
Way back in January, before the season began, I made my predictions of who I thought would be the
top 40 players of 2018.
I put it out there for the whole world to see, knowing in advance that people would focus on my massive misses (but that's what makes this so much fun) Let's see how I did.
1- Lexi Thompson - This was a bold prediction as Lexi had never won the player of the year title. She still hasn't. Most of the year was a struggle for her both on and off the golf course. She rescued her season by winning the CME Group Tour Championship at the end of the year, and finished #9 on the money list.
2- Sung Hyun Park - I was close here, as this three time 2018 winner was #3 on the ML and 2nd for POY.
3- So Yeon Ryu - As always, she had a solid season. If a few more putts dropped I would have been right on. She did finish #6 on the ML and #7 for POY.
4- Brooke Henderson - I was right on with this one. Brooke finished #4 on ML and #5 for POY.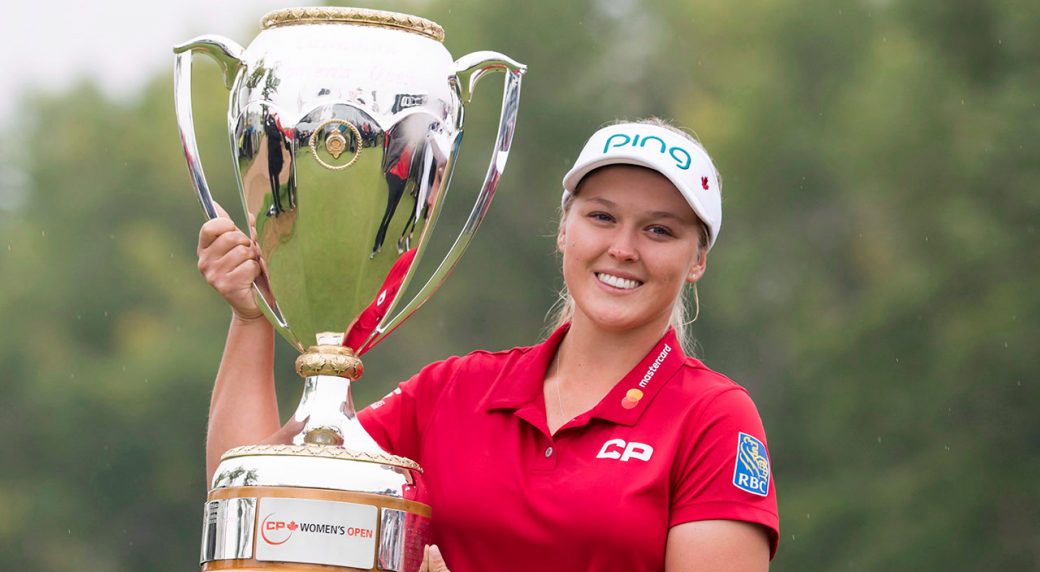 Brooke made my prediction look good, winning multiple events.


5- Ariya Jutanugarn - I had previously found her as one of the toughest players to pick. She has shown that she can miss ten straight cuts, and then be the best player on tour.
The missing of cuts now seem to be a thing of the past. Ariya dominated the 2018 season in every possible way, winning both the ML title and Player of the Year.
6- Shanshan Feng - A big miss here. One of the most consistent players on tour for such a long time, she was anything but in 2018. She finished #26 for POY.
7- Lydia Ko - I figured on a comeback year after her poor 2017 season. She did come back some, but still only managed to finish at #12.
8- Anna Nordqvist - Anna never found her game in 2018. She finished #47 on the ML. A big miss here.
9- In Gee Chun - A win late in the season made this look a bit better for me. But not great. She finished #23 on ML and #26 for POY.
10- Michelle Wie - I will take a pass on this one as after an early season victory, her season was mostly wiped out by injuries.
11- Cristie Kerr - It appears that father time is finally catching up with her. She finished #51 on ML, making this a big miss for me.
12- Inbee Park - She has become a part-time player on the LPGA tour, teeing it up just 13 times (there were 32 events). Still she made me look good here finishing #10 for POY.
13- Stacy Lewis - You got to give me a break on this one. I had no way of knowing back in January she would take a maternity leave.
14- Minjee Lee - She finally put it all together in 2018. Although she won just once, her consistency resulted in a second place finish for player of the year.
Minjee Lee put it all together in 2018.
15- Jin Young Ko - Always a gamble when you pick a rookie to do this well. She proved me correct by finishing #10 on the ML.
16- Angel Yin - After finishing #44 in 2017, I expected big things from her this year. She did improve some, finishing at #28.
17- Sei Young Kim - After finishing #10 in 2017, I figured on a slight drop off. She moved up slightly (#7) instead.
18- Jessica Korda - She finished right at #18 on money List.
19- Nelly Korda - Didn't expect her to make more money than her older sister. She did, finishing #13 on the ML. She finished at exactly #19 for POY.
20- Mirim Lee - This one wasn't even close. Mirim started out the season poorly, and it never got better. After finishing #20 last year, she finished at #70 this season.
21- Amy Yang - I get high marks on this one. She finished #25 for POY.
22- Moriya Jutanugarn - Ditto on this one. She finished #18.
23- Danielle Kang - After winning a major championship in 2017 and finishing up at #17, I expected a slight drop off. That wasn't the case. Danielle had her best season and finished #9 for POY.
24- In Kyung Kim - Although she won three times in 2017 (and still only managed to finish at #12), I couldn't pick her higher than this. She doesn't doesn't tee it up enough. I expected a drop and that is exactly what happened. She finished #33 for POY.
25- Mi Hyang Lee - Lee had her best season in 2017, and I expected her to fall back a bit this year. She fell back a lot more than that, finishing up in the 60's on both the POY and ML.
26- Marina Alex - I said back in January that "she gets better every year." She continued to do just that in 2018, winning for the first time and finishing #17 on the ML and #12 for POY.
Marina Alex got her first LPGA win at the Cambia Portland Classic
27- Chella Choi - Chella has been a consistent performer throughout her career, and that is why I picked her where I did. As it turned out Chella had her worst year in quite sometime, finishing up at #54 on ML and #61 for POY.
28- Georgia Hall - As I said previously, picking a rookie to finish in the top 40 is always risky. Especially one coming from the LET (Ladies European Tour). Georgia did what I expected and more, finishing #21 on the ML and #11 for POY.
29- M.J. Hur - This pick was a disaster, as was her season. Who could have ever predicted than she would not have a single top 20 finish the entire season? She did not earn a single POY point, and dropped from #14 on ML in 2017 to #97 this year.
30- Carlota Ciganda - Carlota did everything but win in 2018. She had six top five finishes. She finished at #16 for POY.
31- Brittany Altomare - She is one of those players that always flies under the radar. We don't see much of her, but she puts together a solid season. That was the case again this year when she finished at #46.
32- Brittany Lincicome - For the second consecutive year, she won the opening tournament. In both cases she would not win again. That said, that win was good enough to push her to #22 on the ML and #20 for POY.
33- Charley Hull - Always consistent, she finished the year at #24.
34- Lizette Salas - I expected a drop here after she finished at #21 last year. She did just that finishing up at #31 for POY.
35- Megan Khang - I have always felt that she is a better player than her stats had shown. That is why I picked her this high. She didn't let me down, finishing exactly #35 on ML and #33 for POY.
36- Suzann Pettersen - Like Stacy Lewis above, I had no way of knowing back in January that she would be out on maternity leave.
37- Jenny Shin - Jenny had a mediocre year. A bit worse than I predicted, but still in the ball park. She finished #52 on the ML and #53 for POY.
38- Madelene Sagstrom - Madelene had a real good rookie season in 2017 (finishing #47), and I expected some improvement this year. That wasn't the case as she seemed to struggle all year, finishing up at #78.
39- Austin Ernst - Another player that is not a household name, but continues to have very fine seasons. Austin was consistent all year in 2018, as shown by her #22 finish for POY.
40 - Jodi Ewart Shadoff - Still looking for her first LPGA victory, Jodi has got to make a few more putts (#96 on tour) if she wants to improve her #57 standing on this year's ML.
There you have it. How did I do? I will let my readers decide.
I will be back in a couple of weeks with my top 40 predictions for 2019 (I know, I never learn my lesson).
I want to thank all my readers for making 2018 a record breaking year.
I want to wish everyone a very Happy Holiday Season, and a let's make 2019 the greatest year ever!
I will be back in a few days with more LPGA news.
This weeks Trivia Question:
How many multiple winners were there on the LPGA Tour in 2018?