They played 144 holes over a grueling two week period, but it ended on Saturday with 48 players earning full time status on the LPGA Tour.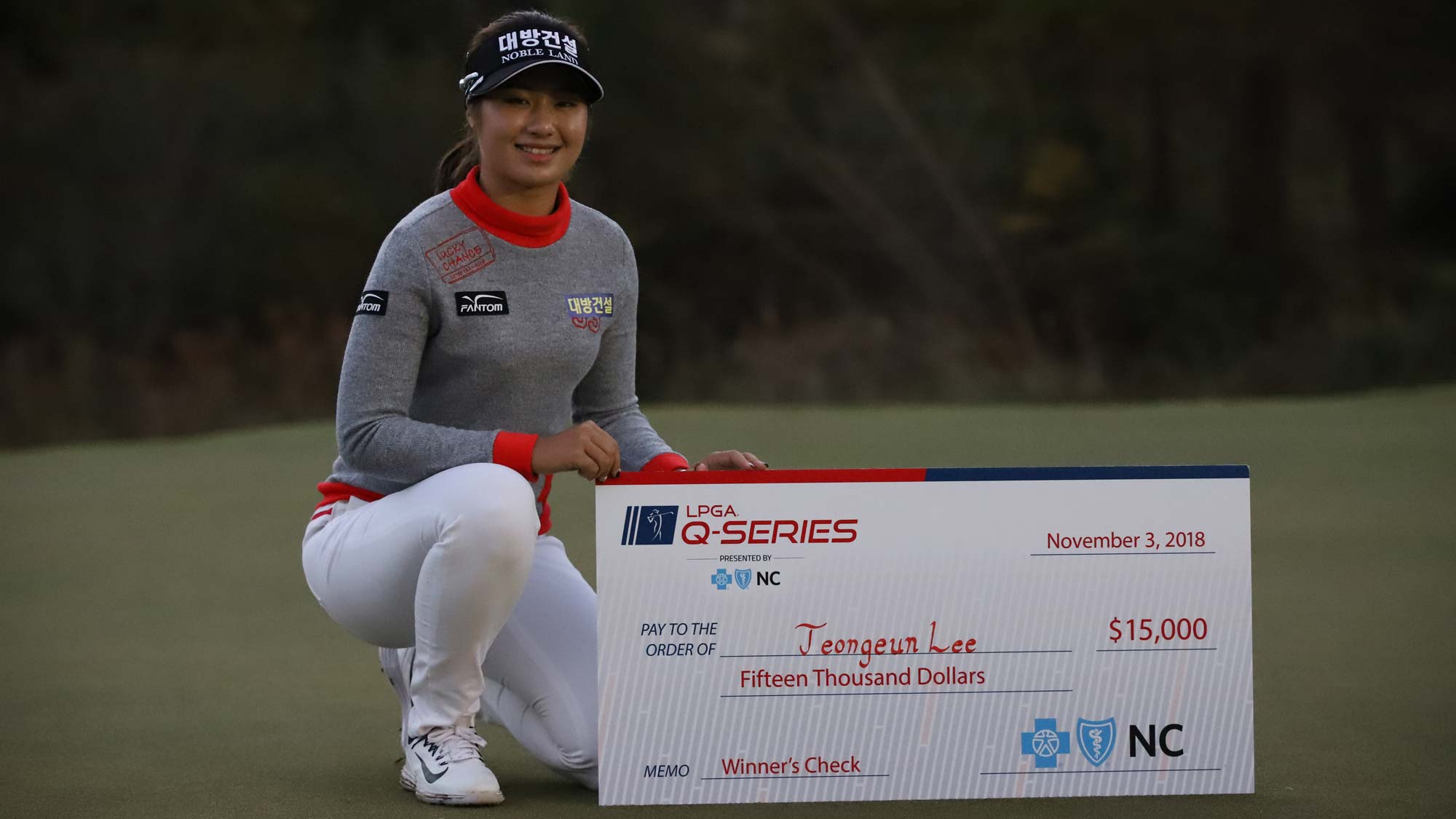 Jeongeun Lee6
There were 102 players who teed it up. They played eight rounds. There was no cut.
Many of these players were seeking LPGA tour membership for the very first time. Only the top 45 finishers (and ties) would be rewarded with full time playing privileges on the LPGA tour in 2019. Of those players, 22 of them will be rookies playing on the LPGA tour for the very first time.
When it was all over Jeongeun Lee6's score of 18 under par was good enough to take home the first place check. Jennifer Kupcho finished just one shot back.
Lee finishing on top came as no surprise to anyone who has followed her career. She is an established star on the KLPGA where she has won seven times, including twice this year, and is currently number one on that tour's money list. She's the sixth player on the KLPGA with the name Jeongeun Lee, hence the number 6 in her name. Lee is currently ranked No.19 in the Rolex Rankings and will be heavily favored to win the Louise Suggs Rookie of the Year Award, assuming she excepts LPGA membership.
Kupcho, a senior at Wake Forest, has expressed her intentions to stay in school and defer her LPGA membership. She won the 2018 individual championship title, the first wire-to-wire NCAA champion since 2002.
Eight of the 11 amateurs who entered the field finished in the top forty-five and earned their LPGA membership. Kupcho was the low amateur, followed by Lauren Stephenson and Kristen Gillman (both from the University of Alabama). Stephenson, a senior, still has one season of eligibility left but is more than likely to turn pro and forego her spring season for the Crimson Tide.
Lauren Stephenson


Klara Spilkova, who finished in fourth place and was the leader most of the way, was the top European finisher. Spilkova, 23, is from the Czech Republic and has been a member of the LET since 2011. In 2017 she became the first Czech winner on that tour.
Klara Spilkova
Here is the complete list of the 22 players that made it through the LPGA's first Q-Series, and will be rookies in 2019:
Jeongeun Lee6
(Republic of Korea),
Jennifer Kupcho
(United States),
Sarah Schmelzel
(United States),
Klara Spilkova
(Czech Republic),
Jaclyn Lee
(Canada),
Lauren Stephenson
(United States),
Becca Huffer
(United States),
Youngin Chun
(Republic of Korea),
Kristen Gillman
(United States),
Clariss Guce
(United States),
Anne Van Dam
(Netherlands),
Jenny Haglund
(Sweden),
Alana Uriell
(United States),
Lilia Vu
(United States),
Cheyenne Knight
(United States),
Muni He
(China),
Sarah Burnham
(United States),
Maria Fassi
(Mexico), L
ouise Ridderstrom
(Sweden),
Suzuka Yamaguchi
(Japan),
Pajaree Anannarukarn
(Thailand) and
Robyn Choi
(Australia).
The very popular and photogenic Muni He
The above 22 players will be joined on the LPGA tour by 5 other rookies who last month received their full time 2019 LPGA playing privileges by finishing in the top 10 on the 2018 Symetra Tour money list. They are as follows:
Ruixin Liu
(China),
Elizabeth Szokol
(United States),
Linnea Strom
(Sweden),
Charlotte Thomas
(England),
Isi Gabsa
(Germany)
For the 27 players listed above, it is a dream come true. I am sure you will all join me in wishing them success during the upcoming 2019 season.
This Week's Trivia Question:
How many rookies have won on the LPGA tour this year?
For the answer to
this week's trivia question press here.