How hard is it to qualify for the LPGA Hall of Fame? If you look at the recent statistics, it's next to impossible.
First let us take a look at the LPGA Tour criteria for entry into the Hall of Fame.
1 - Must be/have been an "active" LPGA Tour member for 10 years.
2 - Must have won/been awarded at least one of the following - an LPGA major championship, the Vare Trophy or Rolex Player of the Year honors; and
3 - Must have accumulated a total of 27 points, which are awarded as follows - one point for each LPGA official tournament win, two points for each LPGA major tournament win and one point for each Vare Trophy or Rolex Player of the Year honor earned.
Okay. So you think that doesn't look too difficult to achieve? Well look again.
Only one player has met the above criteria in the last eleven years, Inbee Park.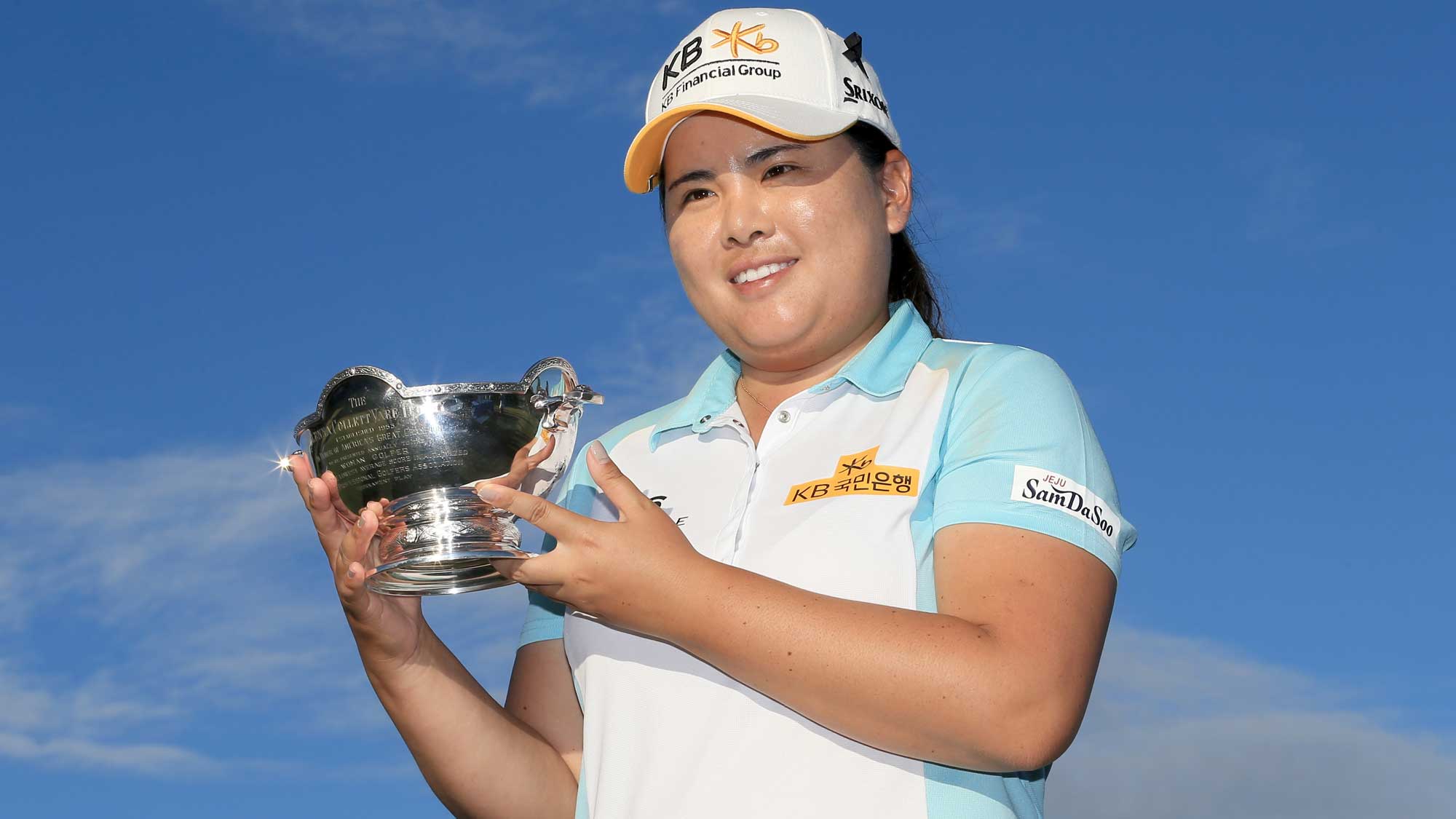 Inbee Park holds up the Vare Trophy she won in 2015, which gave her enough points for HOF induction.
To get inducted into the World Golf Hall of Fame, it is much easier.
A player needs just 15 wins from any of the major tours that participate in the Rolex Rankings (LPGA, Ladies European Tour, Korean LPGA, Japan LPGA, Australian Ladies Professional Golf). There are other ways to get in including winning two Major Championships. The men on the PGA Tour have similar qualifications for induction.
So why make it so difficult for LPGA induction?
If anything, shouldn't the criteria be more difficult for the men? After all most men seem to play 25 to 30 years before moving on to the Champions Tour.
The LPGA life for women, for obvious reasons (starting up a family, etc.) is much shorter. They have less time to accumulate points.
The one great thing about the LPGA criteria is that you don't have to be 50 years old (like the World Golf Hall of Fame) to become a member. I think that is great for the fans who could come out to see a Hall of Fame member while they are still active. The only problem is that only three LPGA Hall of Fame members are active players. Two of those players (Juli Inkster and Karrie Webb) are playing a very limited schedule.
Why is it so difficult to accumulate 27 points? Is it that these ladies aren't good enough? No! Just the opposite. The LPGA players are stronger now than anytime in their history. There is so much depth, that it has become impossible for one player to dominate. In 2017, the LPGA played 34 tournaments and had 22 different winners. This year they have played nine tournaments and have had nine different winners.
Laura Davies has 25 points and has been two points short of induction for quite some time. She has won over 50 tournaments worldwide and deserves to be put in the LPGA Hall of Fame NOW, not later on by the veteran's committee!
Lorena Ochoa has enough points but didn't put in the 10 years. She did it in less than ten years. Isn't that an even greater achievement? She also needs to be put in now.
In the last eleven years, 28 baseball players have been inducted into the Hall of Fame in Cooperstown. How can it be that the LPGA has had just one?
Commissioner Michael Whan has said in the past that he doesn't want to change the criteria. I have the utmost respect for Mr. Whan who has done so many wonderful things since being appointed Commissioner of the LPGA. It is time for him to revisit this subject and make the necessary changes.
UPDATE: 4/29/18
I have received several e-mails asking what I though the solution might be.
I would do the following:
1- Lower the points needed for induction from 27 to 25.
2- Eliminate the 10 year rule.
3- Set up a committee made up of retired players and media. Put out a ballot each year with each member of the committee allowed to write down 2 names they think should be inducted (they don't have to write any names if they don't think anyone is worthy). If a player gets 75% of the votes they are inducted (similar to baseball).
The first year's ballot should include the names of Laura Davies, Lorena Ochoa, Cristie Kerr, and Yani Tseng. If not voted in the names can be put on again the following year. If a player does not get voted in, then will always have the chance of getting in automatically via #1 above.
This is not a perfect solution and a fine tuning may be needed.
This Week's Trivia Question:
(For those who missed it earlier)
There are 29 LPGA members that currently reside in the state of California. That ranks second most on the LPGA Tour. Florida is #1. How many current LPGA players reside in the state of Florida?
A) 33 B) 48 C) 63