The Final Stage of the LPGA Q
ualifying Tournament will be held Wednesday November 29 through Sunday December 3 at LPGA International - Jones & Hills Courses, Daytona, Florida.
Players will rotate between the Jones and Hills courses over the first 4 days.
There will be a 72 hole cut made after Saturday's round to the top 70 and ties.
Sunday's final round will be played on the Hills course.
Key Details:
Field: 166 players
Par: 72 on both courses
Hills Course: 6566 yards
Jones Course: 6,449 yards
Players who finish in the top 20 will earn category 12 Priority List membership. This means that they will get to play in all full field LPGA tournaments. Players finishing 21-45 will get category 17 membership, which amounts to conditional playing privileges. The players in category 17 usually do not get into many LPGA events and will probably spend most of the 2018 season playing on the Symetra Tour. Bronte Law, Aditi Ashok, Nicole Broch Larson, and Emily Pedersen were the only category 17 players who managed to retain their full time playing privileges because of their play on the LPGA tour during the 2017 season.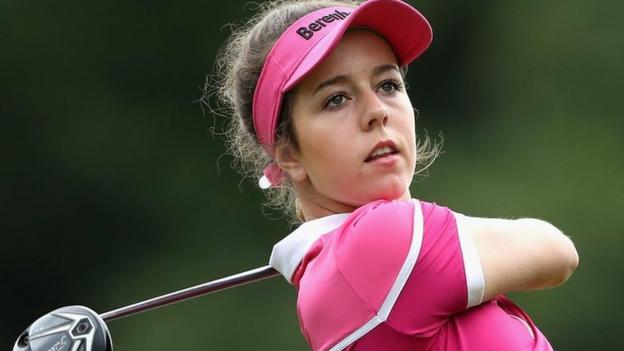 Georgia Hall (winner of phase 2) will be one of the favorites to capture one of the top 20 spots


There will be 166 players in the field this week.

There are 81 players representing the USA, and 85 players representing 30 countries outside the United States. They include 9 players from Thailand and Sweden, 6 from Canada, and 6 from South Korea.

The field includes 10 teenagers and 43 players under the age of 23.

Included in the field are 8 amateurs.

There are 5 players that are past winners on the LPGA tour - Lori Kane, Mika Miyazato, Silvia Cavalleri, Ilhee Lee, and Julieta Granada.

Lori Kane is the oldest player in the field at 52.

Georgia Hall is the highest ranked player at #41 in the Rolex Rankings.
USC golfer Muni He (aka Lily) is the only player in field that is both an amateur and a teenager
Although the most significant prize is leaving with a 2018 tour card, there is a $50,000 purse and the medalist will earn $5,000.
This Week's Trivia Question:
Who holds the record for the lowest score in the history of the final stage of the LPGA Qualifying Tournament?
For the answer to this week's trivia question press here.
Follow @tonyjesselli
(Currently 1,580 followers)
Tweet
Stats Of Hits