Before I start on this week's tournament, let me give a big congratulations to Katherine Kirk for winning the Thornberry Creek LPGA Classic. It was her first win in seven years. It was also her third win on the LPGA tour. Leading most of the way, Kirk made it tougher than it had to be, but her birdie on the 18th and final hole clinched it. Ashleigh Buhai, who also birdied the final hole, finished just one stroke back.
This week the LPGA travels to the state of New Jersey for the playing of the U.S. Women's Open Conducted by the USGA. This is the third Major Championship of the season.
Brittany Lang will be trying to defend the title she won last year in a playoff over Anna Nordqvist.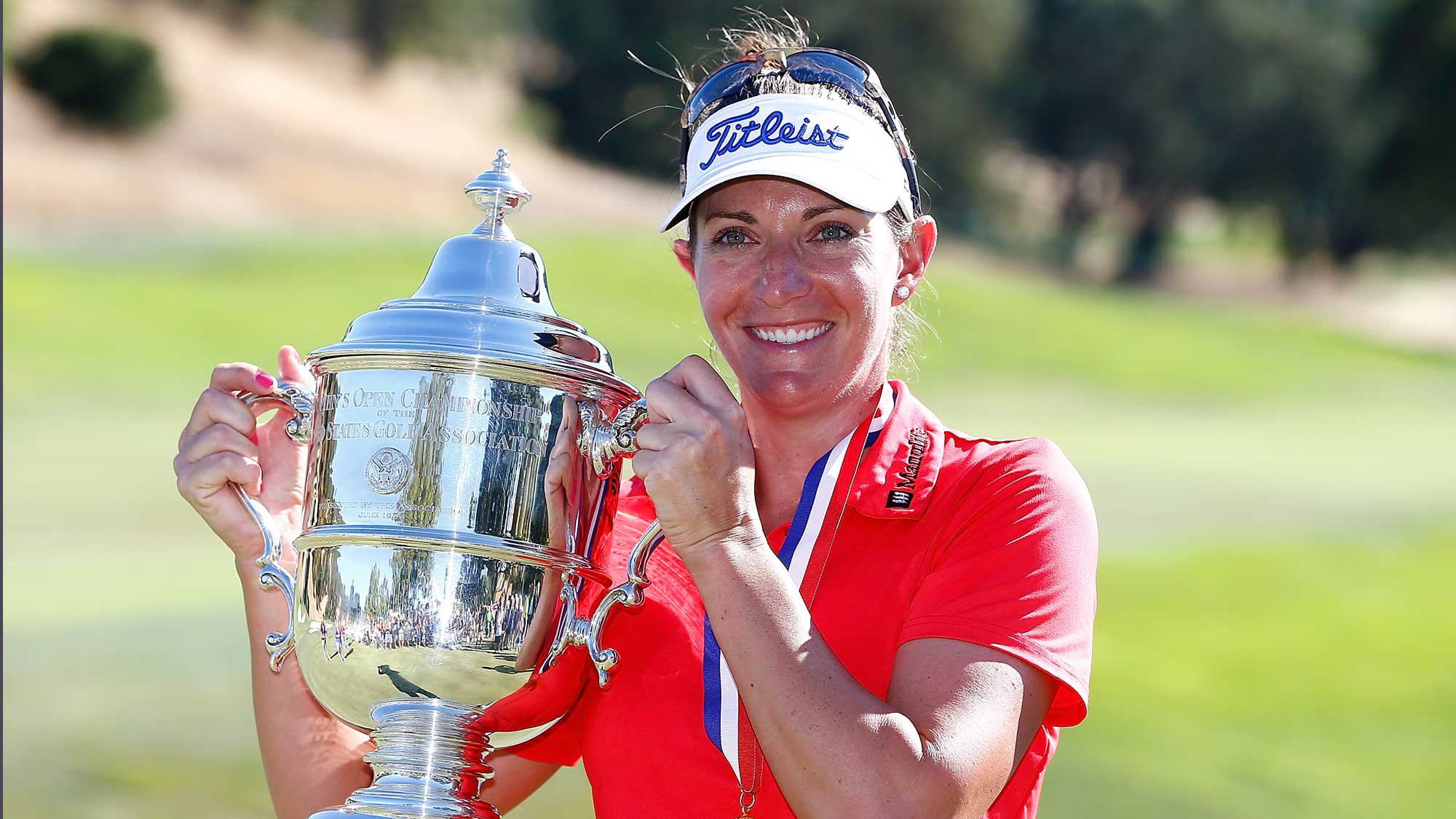 Brittany Lang holds up her 2016 U.S. Open Championship trophy
This will be tournament #19 of 34 on this year's LPGA Schedule. It is also the 3rd of five Major Championships to be played this year.
Here are the key details:
Course: Trump National Golf Club
Location: Bedminster, N.J.
Defending Champion: Brittany Lang
Winning Score: 68-75-68-71 = 282 (-6)
Final Field:
156 players
Par: 36/36 = 72
Yardage: 6,752
Purse: $5,000,000
My strength of field rating is a mighty 91% ( up from 88% last year). Not only is it by far the strongest field of the year, but it is the strongest field rating that I have ever given an event in the 5 years I have been doing these ratings. The entire top 75 on the LPGA Priority List, and 45 of the top 50 players on this week's Rolex Rankings will be teeing it up. What makes this field so extraordinarily high is the inclusion of so many high ranked players from other tours (especially the KLPGA).
Here are the
pairings for the first two rounds
.
Here are the television times:
July 13 - FOX Sports1 2:00 PM-7:00 PM ET
July 14 - FOX Sports1 2:00 PM-7:00 PM ET
July 15 - FOX 2:00 PM-7:00 PM ET
July 16 - FOX 2:00 PM-7:00 PM ET
Players most likely to win:
(Top players in the field)
So Yeon Ryu - World's #1 player has won this before
Ariya Jutanugarn - In a slump, but has the tools to win here
Lexi Thompson - A win here could put her #1
Players to watch out for:
(I'm feeling it this week)
Amy Yang - Always dangerous
Brooke Henderson - Has been playing well
Lexi Thompson...If she can drop a few putts......
Longshot picks:
(Not likely, but not impossible)
Michelle Wie - Maybe it is her time again
Cristie Kerr - Her game appears in good shape
Jeong Eun Lee - Just a gut feeling
Danielle Kang - Why not again?
Other Tidbits
:
Haru Nomura had her cut streak stopped at 29. The past few weeks have not been kind to cut streaks. Stacy Lewis currently has the longest streak with 52. It then drops way down to M.J. Hur at 25.
Rolex Rankings Movers of the Week:
Not much movement within the top 100 this week. Katherine Kirk skyrockets 69 places from #139 to #70.
Race to the CME Globe:
(1 million dollars)
So Yeon Ryu leads with 2,266 points. She is followed closely by Lexi Thompson with 2,199, and Ariya Jutanugarn with 2,177. Brooke Henderson (1,696) and In Gee Chun (1,580) fill out the top five.
Who's Hot:
Cristie Kerr and Sei Young Kim picked up their 5th top five finish of the year. Only Lexi Thompson (6) has more.
Moriya Jutanugarn has entered 17 tournaments this year and has 15 top 25 finishes. No other player on the LPGA tour has more than 13.
Ssu-Chia Cheng has missed 11 straight cuts. Stephanie Meadow has missed her last nine, while Nasa Hatoaka has missed her last six.
My wife and I will be attending this tournament this week. I will be posting pictures throughout the week.
Be sure to check back here daily for any LPGA news or updates. They will be posted here at the bottom of this blog. Links to all Women's Tour scoreboards can be found at the top of this page.

Follow @tonyjesselli
(Currently 1,542 followers)
Tweet