The LPGA had its second and final reshuffle of its Priority List this past week. While most of the players moved up or down a few insignificant spots, there were some very significant moves also.
The Priority List is what is used to fill the required amount of spots for any given tournament. Without me getting into the categories, which is potentially confusing, here is a brief explanation.
Most full field events have a field of 144 players. Usually 140 of the players come from the Priority List ranking. Two players are Monday qualifiers, and 2 more are sponsor exemptions. So to keep it simple, if your Priority Rating is #150, you have to hope that 10 players decide not to play, or you are probably not getting into the field.
Jaye Marie Green moves up 28 spots
The following players made the biggest jumps in last week's reshuffle
(and by getting into the top 100 become part of my field rating)
:
Madelene Sagstrom - 101 to 88
Tiffany Joh - 109 to 95
Perrine Delacour - 111 to 97
Jaye Marie Green - 124 to 96
Lindy Duncan - 114 - 91
Although the jumps made by the above players look good on paper, it is not that significant as they were playing all full field events anyway.
Nicole Broch Larsen makes the most significant move of the reshuffle
The following players made the most important gains, and should now be playing in most (if not all) full field events:
Nicole Broch Larsen - 147 to 94
Mina Harigae - 141 to 98
Holly Clyburn - 158 to 147
Emily Pedersen - 162 to 137
The following players are not guaranteed to play all full field events, but have a much better chance than before the reshuffle
:
Bronte Law - 150 to 146
Demi Runas - 156 to 152
Haeji Kang - 180 to 153
Brianna Do - 179 to 157
Felicity Johnson - 368 to 158
Rachel Rohanna - 364 to 161
Cindy LaCrosse - 173 to 162
The following players took the biggest drops, in last week's reshuffle (and are no longer part of my field rating):
Thidapa Suwannapura - 118 to 142
Amelia Lewis - 100 to 140
Laetitia Beck - 93 to 129
Amy Olson - 98 to 128
Mel Reid - 94 to 126
Beth Allen - 92 - 123
Although the drops here look bad on paper, it is not all that significant as these players will still get into all full (144 player field) tournaments.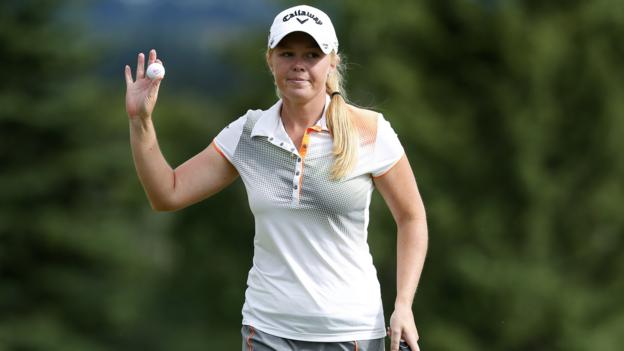 Stephanie Meadow's 12 place drop will make it much more difficult for her to qualify for upcoming events
The following players got hurt the most and will be seeing less playing time, or no playing time at all:
Ashleigh Buhai - 142 to 148
Sandra Changkija - 145 to 151
Stephanie Meadow - 143 to 155
Emily Tubert - 153 to 160
Sarah Kemp - 154 to 164
Casey Grice - 155 to 167
Madeleine Shiels - 159 to 168
The following player has been dropped completely from the Priority List:
Ha Na Jang
This Week's Trivia Question: (in case you missed it earlier.
Seven players have won LPGA Major Championships as teenagers. How many can you name?
For the answer to
this week's trivia question press here.
Be sure to check back here daily for any LPGA news or updates. They will be posted here at the bottom of this blog. Links to all Women's Tour scoreboards can be found at the top of this page.

Follow @tonyjesselli
(Currently 1,542 followers)
Tweet