Last year I asked my readers for suggestions to make this a better blog. It is important to me to know what my readers want to see and read about.
I have gotten many requests to implement a quiz at the end of each article, which I started doing late last year.
I have also received a number of requests to do player profiles. Many of my readers are new fans of the LPGA, and women's golf in general. They are not familiar with all the players on tour. Even some of the more knowledgeable fans have asked for more information on certain players.
I would like to do my first player profile today, and if I can make the time would like to continue throughout the year.
I have chosen one of my favorite players to get things started. She is one of the most consistent players on the LPGA tour, and is also one of the most approachable. She is always happy to sign anything put in front of her, or take a picture with you. There is no "diva" in this lady and she is always wearing a smile. My choice is:
So Yeon Ryu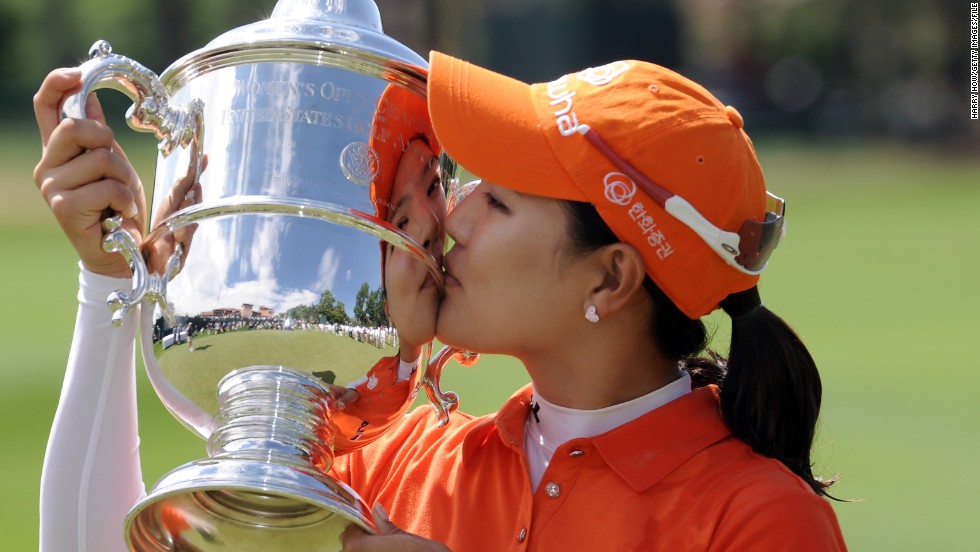 So Yeon Ryu kisses the 2011 U.S. Open trophy
Pronounced So-Yun-You.
Birthday: 6/29/1990 (26 years old)
Hometown: Seoul South Korea
Makes her residence in: Torrance, California
So Yeon was a rookie in 2012. She had already won the U.S. Women's Open in 2011, as a non LPGA member.
Her 2016 earnings were $1,259,651, which placed her #10 on the money list.
She has won 3 times on the LPGA tour:
2011 U.S. Women's Open (major championship)
2012 Jamie Farr Toledo Classic
2014 Canadian Pacific Women's Open.
Ryu, with yours truly at the Jaime Farr Toledo Classic
So Yeon has a history of playing her best golf in major championships. Here are her best finishes in each of the five LPGA majors.
ANA Inspiration - Finished 2nd in 2013
KPMG Women's PGA Championship - Finished 4th in 2016
U.S. Women's Open - 2011 winner
Ricoh Women's British Open - Finished 3rd in 2015
The Evian Championship - Finished 4th in 2013
She has a remarkable record of finishing in the top ten in her career.
132 career starts
63 top ten finishes
47.7%
Other Career Highlights:
Had 11 top ten finishes (in just 24 starts) in 2016, including 6 top fives.
Finished in the top ten in scoring average (6th), Greens in Regulation (2), and rounds under par(10th) in 2016.
In just 5 years on tour, has already earned over $6,500,000, which is 35th on the LPGA career money list.
Was a member of Team Korea at the 2014 and 2016 UL International Crown and posted a 6-2 record.
Eaned the Louise Suggs Rookie of the Year award in 2012.
A six time KLPGA winner where she was a rookie in 2008.
There are many other highlights, I have just listed a few that I felt were most important. Feel free to add your own.
This week's Trivia Question (In case you missed it earlier in the week):
What player will be starting the 2017 season with a streak of seven consecutive top ten finishes.