The year 2016 was a very poor year (and that's putting it mildly) for American Golfers on the LPGA tour. They were able to win just twice in 34 official LPGA events. With the season starting this week in the Bahamas, veteran players such as: Brittany Lincicome, Stacy Lewis, Gerina Piller, and Lexi Thompson, needed to step up their game dramatically in 2017.
This week they all came through with flying colors. In a rarity, the American players finished 1 through 5, in the year's first tournament. In fact, at the turn on Sunday's final round, the four players that I mentioned above, were all tied for the lead with no other player within 6 strokes.
The lead went back and forth, with each player enjoying the lead at some point on the back nine. When Stacy Lewis triple bogeyed the 14th hole, it all but ended her chances. When Brittany Lincicome (playing ahead of the other three players) birdied the 18th hole, she tied Lexi Thompson for the lead. A birdie on the par 5 18th would win it for Thompson. But then the sky opened up, and the conditions became almost unplayable. Lexi sank a 5 footer for par, forcing a playoff. When Lincicome birdied the first playoff hole (the 18th), she became the Pure Silk Bahamas LPGA Classic champion.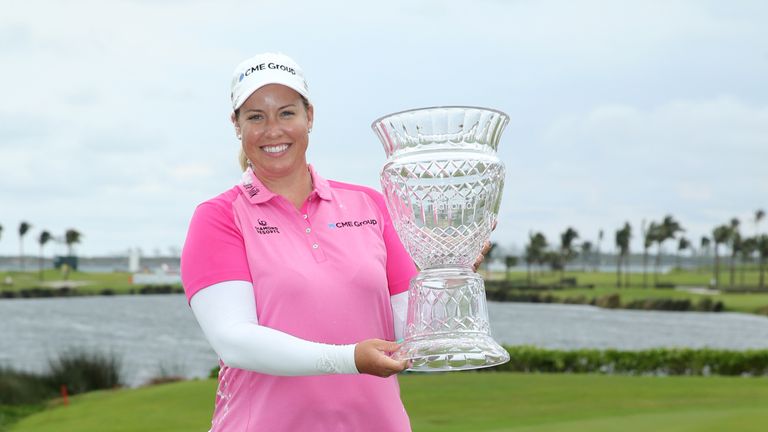 Brittany Lincicome holds up her 2017 Pure Silk Bahamas Classic trophy.
As exciting as this tournament was, Brittany's win was not the only big story.
Nelly Korda, younger sister of Jessica, made her debut as an LPGA member, and shot an incredible score of -21.
Nelly Korda shot a -10 under 63 on Saturday
I am going to assume that that has to be an LPGA record for a debut performance.
I will be back in a couple of days with more on this year's rookies.
This week's Trivia Question:
Who was the last American player to win the Louise Suggs Rookie of the Year award?
For the answer to
this week's trivia question press here.

Follow @tonyjesselli
(Currently 1,522 followers)
Tweet