Trying to predict the LPGA is a very difficult task. Much harder than the PGA.
The 2016 season was full of surprises:
There were 17 different winners.
There were winners from 12 different countries.
Five players won for the first time.
Unlike the 2015 season when 4 rookies won a total of six tournaments, only one tournament was won by a rookie.
The five major championships were won by five different players from five different countries.
It was a year that was almost impossible to predict, but I gave it a try.
Way back in January, before the season began, I made my predictions of who I thought would be the
top players of 2016
. I put it out there for the whole world to see, knowing in advance that people would focus on my massive misses (but that's what makes this so much fun) Let's see how I did.
1- Lydia Ko - I certainly played it safe here. No big surprise that she finished 2nd for Player of the Year, and 2nd on the money list.
2- Inbee Park - She was injured early. No recap necessary.
3- Lexi Thompson - She won early in the year, but never got back into the winner's circle again. Her 9 top tens suggests a solid season, but I expected better. She finished 18th on the money list.
4- Stacy Lewis - I kept waiting for her breakthrough win. It never happened. In fact things got worse as the year went on. She finished 16th on the money list. It sure seemed even worse than that.
5- Hyo Joo Kim - She won the first tournament of the season.....and then fell off dramatically the rest of the season. She finished twentieth on the money list. A real disappointment and a big miss on my part.
6- Sei Young Kim - After finishing 4th on the 2015 money list, I predicted she would fall back a couple of spots. She finished 6th on the money list. Exactly where I placed her.
7- Shanshan Feng - After a very slow first half, she finished the season as the LPGA's hottest player. She finished 5th on the money list and 7th for player of the year.
8- Minjee Lee - After finishing 16th on the ML in 2015, I predicted she would be even better this year. She finishied 12th on the ML and 11th for POY.
Brooke Henderson finished 3rd on money list, and for Player of the Year honors, in her first full season on LPGA tour.
9- Brooke Henderson - I got blasted by many when I picked her to finish this high in her first full season. She finished third on ML and POY.
10- Amy Yang - I am certainly on a roll now. Although she failed to win in 2016, she was consistent enough to finish #12 on the Year's money list.
11- Suzann Pettersen - Struggled with a back problems for a good portion of the year, but that is no excuse as I knew that going in. She finished 22nd on the money list.
12- Anna Nordqvist - I did okay here. She finished 7th and 8th on the two lists.
13- Mirim Lee - She still hasn't found that magic that she displayed during her rookie season. After falling to #19 in 2015, I predicted she would improve to this spot. She did improve some, finishing 17th on the money list.
14- Ha Na Jang - With so many solid players coming out of South Korea, it is very difficult to rank them. Somebody has to be left out of the top ten. I left the wrong one out. After finishing 15th last season, I knew she would have another solid year. Just didn't expect a 5th place finish.
15- So Yeon Ryu - If she could only finish. Always consistent as attested by her 11 top ten finishes, but can't seem to do it on Sunday. After finishing 8th last year I figured a slight drop off with so many young stars out there now. She did drop, but just to #10.
16- Jessica Korda - After a poor 2015 where she finished #27, this year had to better. It was, but not by much, as attested by her 24th place finish on ML.
17- Alison Lee - She had a horrible start to the season, and at one point missed 5 consecutive cuts. She was back to the old Ali in the second half of the season but could only make it to 38th on the ML.
18- Cristie Kerr - She finished 7th on the ML last year, and I predicted a big drop off this year. It was even bigger than I though. She finished 39th.
19- Morgan Pressel - After finishing 11th in 2015, I predicted she would fall back some this year also. She nearly fell off the planet, finishing 48th.
20- Charley Hull - After finishing 48th last year, I predicted a huge jump this year. She made me look good with her 15th place finish. I often wonder how good a player she would be if she ever took golf seriously.
21- Brittany Lincicome - She finished 12th last year and once again I predicted a drop off here. She certainly did that and more, finishing #47.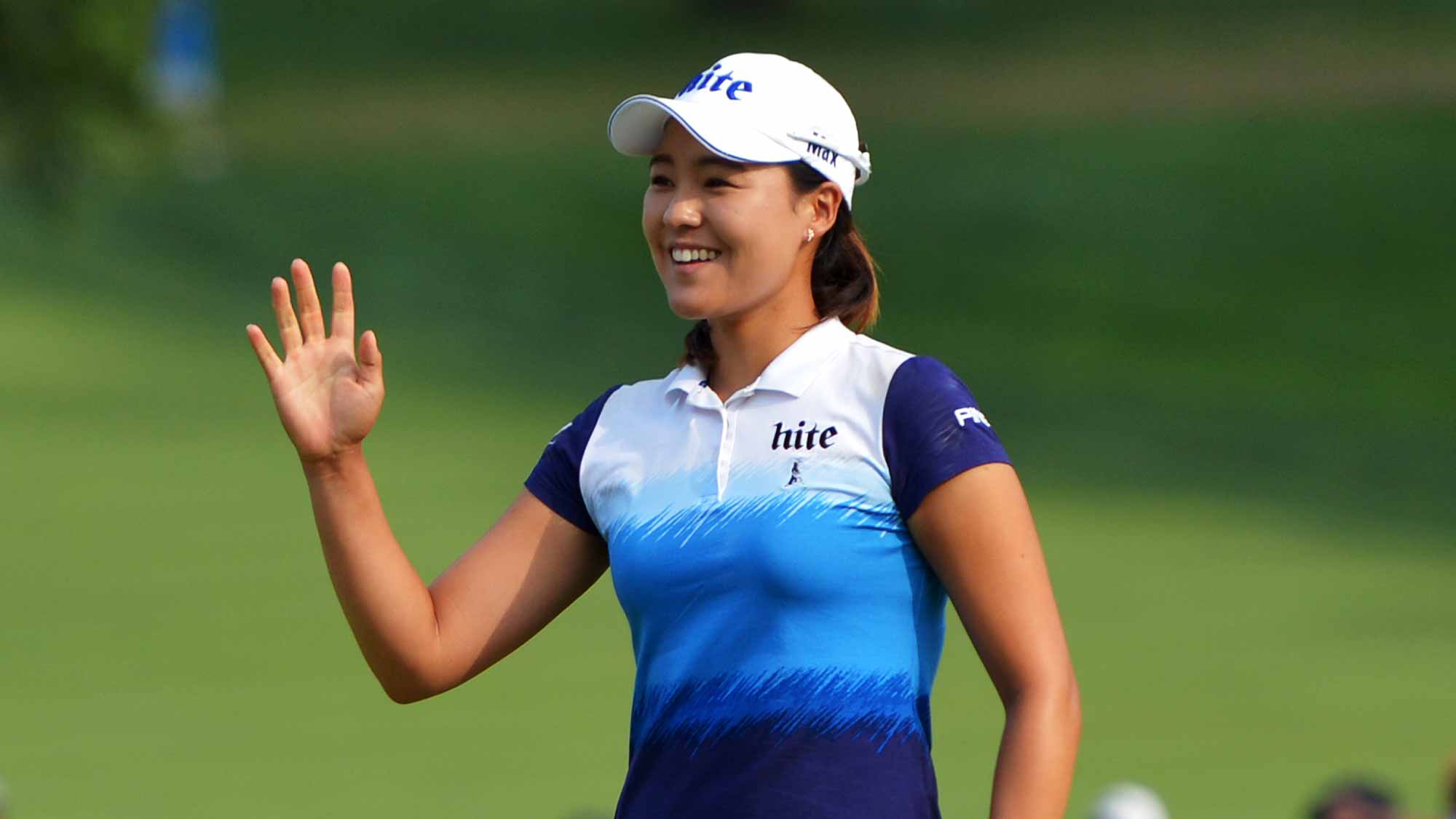 In Gee Chun won the Vare Trophy in her rookie season.
22-
In Gee Chun
- My friends over at
Seoulsisters.freeforums.net
have not let me live this one down all year. I wish a had a dollar for every "I told you so" I have received. In my defense some of those same people told me that Q-Baek was going to be a huge star the year before. I thought predicting her here in the middle of the pack was a fair placement. As it turned out she won the Vare trophy, and finished #4 on the ML and POY. The strange part is she threw away quite a few chances to win. How good will she be when she learns how to finish? I now have to decide how high I want to rank Sung Hyun Park in 2017.
23- Na Yeon Choi - A complete train wreck! Fortunately for her she had a good first 1/3 of the season. She would go on to miss the cut in 9 of her last 12 starts. In the other 3 there was no cut, and she finished on the bottom of the standings with embarrassing scores. She better get herself straightened out fast or there will be no 2018.
24- Chella Choi - With so many new great players, I predicted she would fall back some from her #20 finish last year. She finished up at #34.
25- Jenny Shin - Her 27th place finish makes me look good here.
26- Azahara Munoz - She seemed almost invisible in 2016. We are still waiting for her to break through and record her first stroke-play victory. Her 43rd place finish was not up to her standards.
27- Yani Tseng - She had somewhat of a comeback season in 2015 with her 21st place finish. I didn't buy it and expected her to retreat some. A 109th place finish was certainly unexpected. Number one in the world just a few short years ago, her future on the LPGA is now on shaky ground.
28- Michelle Wie - Like Yani, Michelle's game is in shambles. Her 105th place finish puts her in the same boat as Yani. Can either one of them make a comeback?
29- Gerina Piller - Maybe the best player on tour not to record a victory. She came close many times in 2016 as attested by her solid 19th place finish.
30 - Mi Hyang Lee - With so many great players on tour who are much more consistent, I predicted she would fall some from her 2015 finish at #22. She did just that, falling all the way to #42.
31- Jaye Marie Green - Jaye played through an injury for most of the season, and when she was finally feeling better was in a car accident. That resulted in her going back to Q-School, where she finished in first place for the second time. A very good ball striker, Jaye is still just 22 and just might be back on my list next year.
Ariya Jutanugarn shocked us all by winning 5 times, and capturing player of the year honors.
32- Ariya Jutanugarn - I picked her here, saying at the time "she has the game to become one of the best players in the world. She is also capable of missing 9 consecutive cuts" (which she did in 2015). She finished 35th on the money list in 2015. I talk to many people during the course of a season, and I don't think anyone saw this coming. At least not this fast. She finished #1 on the money list and won the Player of the year award.
33- Angela Stanford - Angela finished 37th, just about where I expected.
34- Kim Kaufman - Kim finished 45th on the ML in 2015, and I expected some more improvement similar to her improvement her first two years on tour. She took a small step backward finishing at #53.
35- Karrie Webb - Is father time catching up to her? She has slipped significantly the last couple of years. Placed at #8 in 2014, she could do no better than 53rd in 2016.
36- Xi Yu Lin - I knew I was taking a big risk putting her this high, but I expected a solid season. It didn't happen as she dropped 22 spots to #61.
37- Mika Miyazato - It was a big comeback year for her in 2015 and I expected her to drop some this year. She certainly did that, finishing #68.
38- Ilhee Lee - If anyone spots the real Ilhee, please let me know. That certainly looked like an imposter playing on the LPGA tour this season. After finishing #24 last season, I expected a decent size drop. Nobody could have predicted her finishing outside the top eighty. She finished #86.
39- Austin Ernst - She wasn't as consistent last year as she had been the year before, resulting in her falling back to #51.
40- Paula Creamer - Her finish this year of #66 on the money list suggests she is now at a crossroads in her career. One of the most popular players on tour for over a decade, she will be starting the 2017 season with a new caddie.
There you have it. How did I do? I will let my readers decide.
I will be back in a couple of weeks with my top 40 predictions for 2017.
This week's Trivia Question: (If you haven't already tried it).
What was the average age of the winners on the LPGA tour in 2016?
Bonus:
Who was the oldest winner?