Let me start by saying that 2016 was not a very good year for LPGA rookies. Only 6 of the 29 rookies finished in the top 100 on the 2016 money list. Three more will be retaining their cards because of their stellar Symetra Tour play. The other twenty players are all going back to Q-School next week. This was a dramatic decrease from 2015 when we had a spectacular rookie crop, but also down substantially from 2014.
2016 - 9 of 29 = 31.0%
2015 - 19 of 33 = 57.6%
2014 - 13 of 28 = 46.4%
Below are my ratings for all 2016 LPGA rookies. These ratings are strictly based on how they fared on the LPGA tour this season. Any successes or failures on other tours, excluding the Symetra Tour, are not considered here. Success in retaining their 2017 LPGA playing card was my determining factor for my final ratings.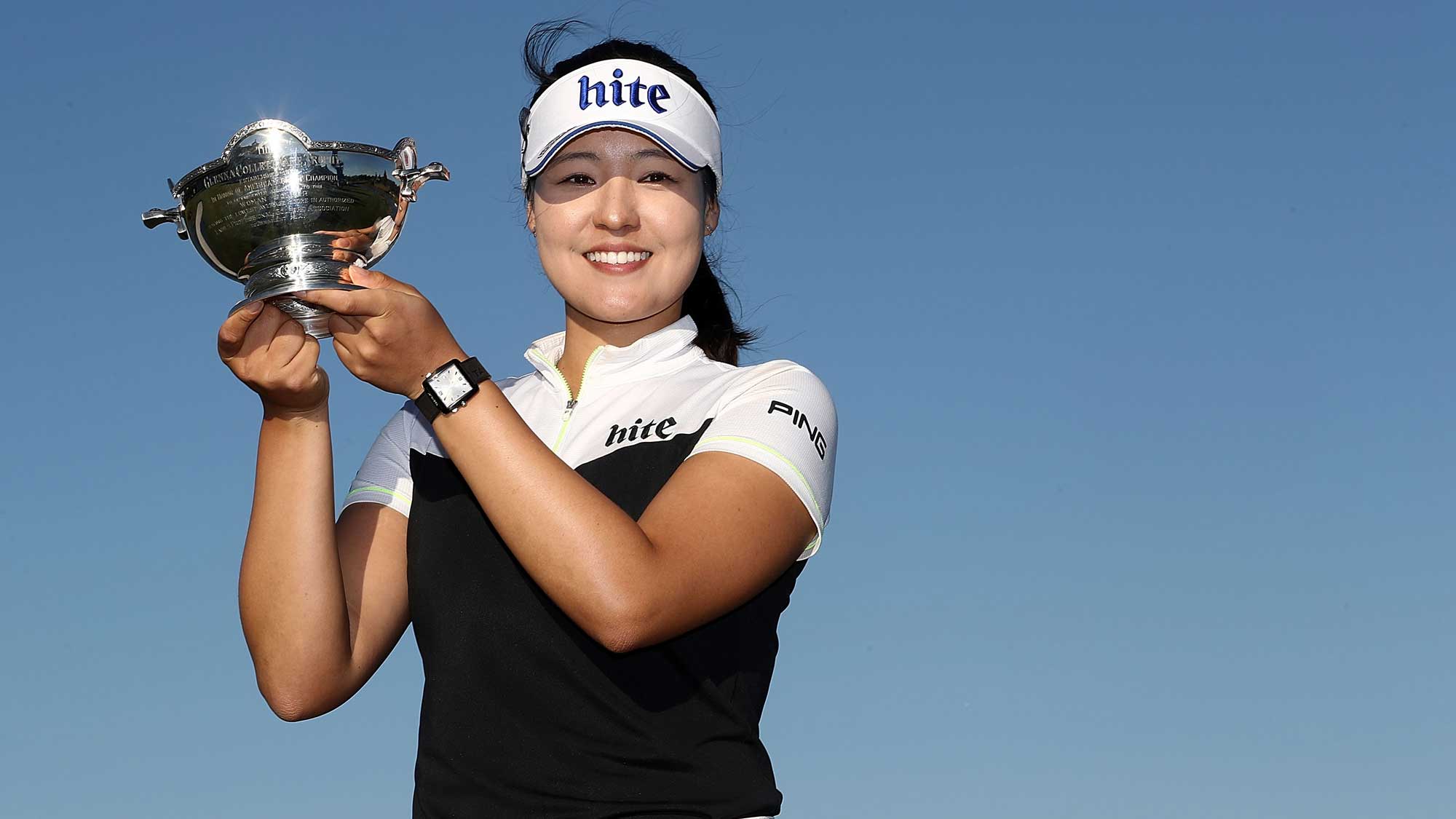 In Gee Chun (holding Vare Trophy) was by far and away the year's best rookie.
The Best:
1- In Gee Chun

- Winning the Louise Suggs Rookie of the Year Award could not have been any easier. She did it easily in spite of missing several tournaments early in the year due to injury. Although she won just once (she had several second place finishes), it was a major Championship. She had 8 top five finishes, and missed only one cut the entire season. To top things off she earned another Hall of Fame point (her 5th) when she won the Vare Trophy.
Strong Rookie Season:
1- Megan Khang - Megan had a fine rookie season of her own. She had one top five finish, 2 top tens, and 6 top twenties. She made 17 of 28 cuts, finished #57 on the year's money list, and was runner-up for Rookie of the Year honors. She is just 18 years old and has a bright future ahead of her.
2- Gaby Lopez - Gaby was a cut making machine in her rookie season. She teed it up 26 times and missed just 4 cuts. Although she didn't register a top ten finish, she came close several times as her 8 top twenties would indicate. She finished a solid #60 on the money list, and #3 for ROY.
3- Su Oh - Didn't get into many tournaments early in the year, but when she did, there was no stopping her. In just 22 starts she registered 1 top five, 2 top tens, and 6 top twenties. She was #50 on the money list and #4 for ROY. I'm predicting big things for her in 2017.
Consider Them a Success:


1- Annie Park - When the season began, many thought that if there was going to be a huge surprise it would be this young lady. Expectations were very high. What followed was a very uneven season. Although she did have 2 top ten finishes, she did struggle for large portions of the season. She teed it up 23 times making 15 cuts. Her #82 finish on the money list guarantees her plenty more opportunities next year.
2- Lee Lopez - Probably the biggest surprise on this list. "The other Lopez" had quite a solid year. Her highlight was finishing 6th at the Cambia Classic. She made 18 of 26 cuts and finished #76 on the money list.
Retaining Their Playing Cards Thru the Symetra Tour:
1- Ally McDonald - Because of a poor priority ranking, she only got to tee it up once this year on the LPGA tour (she finished 30th at the Evian Championship). It doesn't matter. Her 2nd place finish on the Symetra Tour money list guarantees her full time playing privileges in 2017.
2- Wichanee Meechi - She also played in just one LPGA tournament, and missed the cut. Her #4 finish on the Symetra Tour money list means we will be seeing plenty of her next season.
3- Sherman Santiwiwatthannaphong - With her 6th place finish on the Symetra Tour money list, we will be seeing her teeing it up regularly next year on the LPGA. If she becomes the next Thai sensation, we are all going to get writers' cramp.
They are Going Back to Q-School:
The following 3 players are going back to Q-school to improve their priority list ranking for 2017. Although they still have a playing card (category 16), they did not play well enough to guarantee them many starts (if any) in 2017.
1- Ssu-Chia Cheng - She made just 7 of 15 cuts. Her best finish was a tie for 31st, and she finished #122 on the money list.
2- Pannarat Thanapolboonyaras - Making just 8 cuts in 18 events, with a best finish of 22nd, resulted in a money list finish of #123.
3- Holly Clyburn - She teed it up 15 times, but was only able to make 6 cuts. Her best finish was a tie for 41st. She finished #125 on the money list.
The following players finished outside the top 125 on the money and will have to be successful in Q-school next week to earn back their playing privileges. (In alphabetical order). Number of cuts made / Position on money list.
1- Hannah Collier - 2 of 10 / 160
2- Ani Gulugian - 0 of 1 / N/A
3- Ginger Howard - 0 of 6 / N/A
4- Jaclyn Jansen - 1 of 8 / 169
5- Briana Mao - 6 of 14 / 129
6- Grace Na - 1 of 18 / #170
7- Benyapa Niphatsophon - 8 of 18 / 134
8- Ashlan Ramsey - 2 of 18 / 165
9- Marion Ricordeau - 4 of 14 / 143
10- Cyna Rodriguez - 2 of 15 / 168
11- Rachel Rohanna - 5 of 19 / 135
12- Bertine Strauss - 6 of 18 / 133
13- Budsabakorn Sukapan - 5 of 19 / 141
14- Anne-Catherine Tanguay - 5 of 10 / 146
15- Prima Thammaraks - 2 of 8 / 164
16- Pavarisa Yoktuan - 0 of 1 / N/A
17- Jiayai Zhou - 5 of 10 / 163
Today's Trivia Question:
In Gee Chun was the only rookie to win on the LPGA Tour in 2016. There were four rookies who won on the LPGA tour in 2015. Can you name them?
For the answer to today's trivia question press here.
Be sure to check back here early next week for my preview of phase 3 Q-School.
Follow @tonyjesselli on Twitter (Currently 1,510 followers)
Tweet