One of the longest running caddie/ player relationships has come to an end.
Paula Creamer's longtime caddie, Colin Cann, will carry her bag for the final time in this week's CME Tour Championship.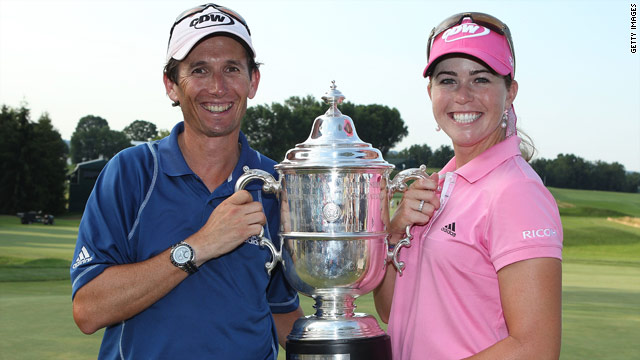 Paula Creamer and Colin Cann hold up U.S. Open Trophy at Oakmont in 2010.
"Colin and I have had a great 12 years together, but it was just time for a change for both of us," Creamer said after her pro-am round Wednesday. "It's a mutual decision."
Colin is the only full time caddie that Paula has ever had. He has carried her bag since she entered the tour as a rookie in 2005.
"Of course, it will be emotional," Creamer said of their last event together. "We've had a very close relationship. It will be hard."
Colin Cann carried Paula's bag for 12 years.
Cann will take over as Korean star Sung Hyun Park's caddie next year. Park is the top player on the KLPGA this year having won seven times. She will be joining the LPGA tour as a rookie in 2017, and qualifies for all full field events.
Follow @tonyjesselli on Twitter (Currently 1,510 followers)
Tweet