The Symetra Tour, Road to the LPGA, begins a five week stretch this week with the most anticipated event on its schedule, the 3rd annual Self Regional Healthcare Foundation Women's Health Classic.
This event offers the largest purse ($250,000) and winner's payout (37,500), in the 36 year history of the tour.
This will be tournament #5 of 22 tournaments on the Symetra Tour schedule this year.
Here are the key details:
Course: The Links at Stoney Point
Location: Greenwood, South Carolina
Defending Champion: Alejandra Llaneza
Winning Score: 70-68-69-71 = 278 (-10)
Final Field:
144 Players
Par: 36/36 = 72
Yardage: Not available
Purse: $250,000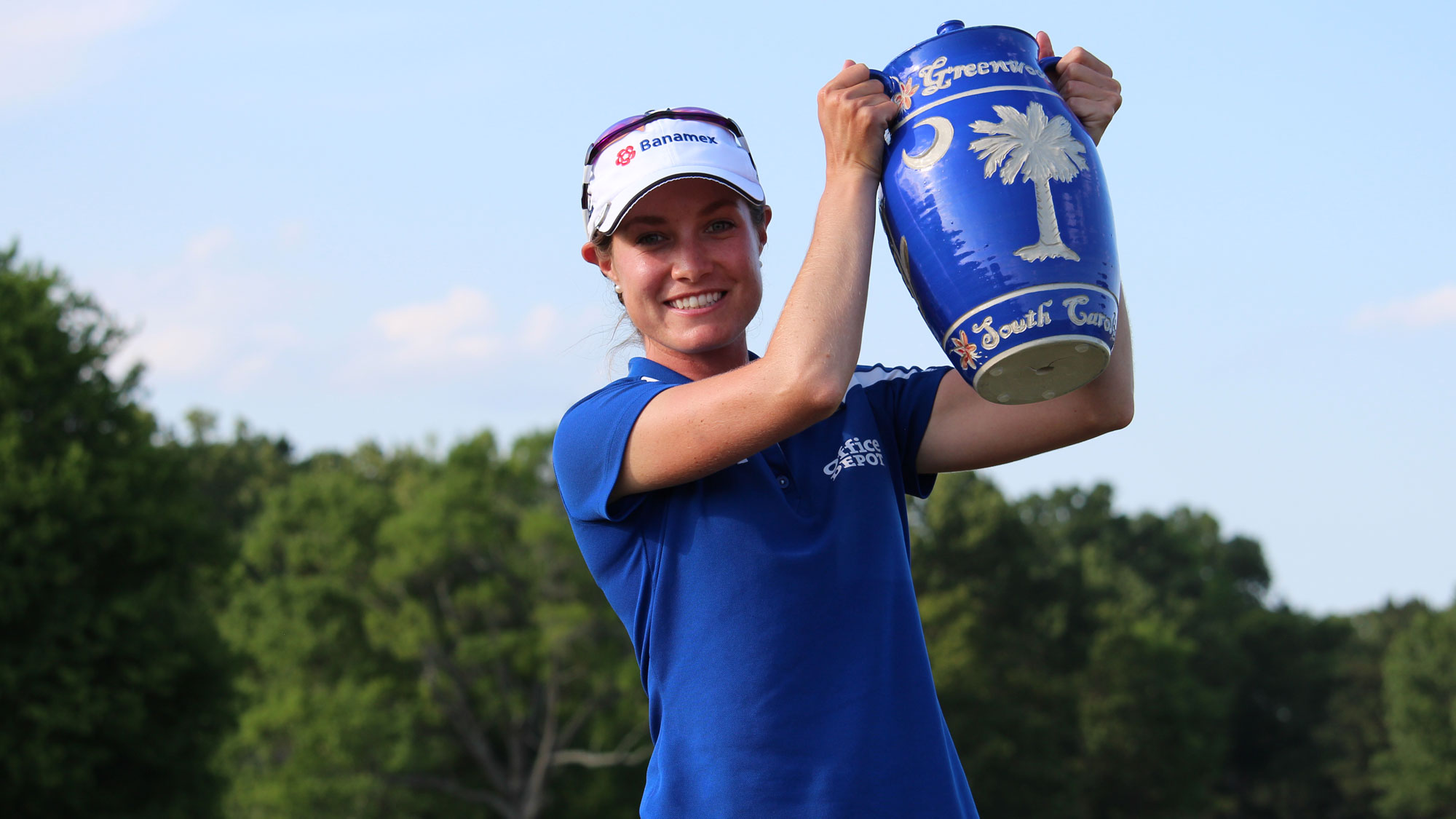 Defending Champion Alejandra Llaneza will be teeing it up on the LPGA tour this weekend.


There will be players from 25 different countries teeing it up and competing for a potentially life-changing winner's check. Based on the current Volvic Race for the card money list, the winner of this event will likely move into the top three (if not already there). The top ten on the final money list after the Symetra Tour Championship will earn membership for the 2017 season.
To add a special twist to this event, there will be two champions crowned on Sunday! A field of 24 Legends Tour players will compete for a $100,000 purse in a 18-hole tournament on Sunday. The Legends Tour tee times and Symetra Tour tee times will alternate. The Legends Tour pairings will be mixed in with the final eight Symetra Tour pairings.
Forty-eight time winner Nancy Lopez headlines the field. Lori Kane, who won the Legends Tour portion of the Chico's Patty Berg Memorial, earlier this year, is also in the field. Rosie Jones who leads the Legends Tour with 7 wins, is also scheduled to tee it up. Other notable players include: Amy Alcott, Jane Blalock, Jane Crafter, Val Skinner, and Jan Stephenson.
The field is strong this week with 7 of the top 10, and 15 of the top 20 on the Volvic Race for the Card money list scheduled to compete. There are no major championships on the Symetra Tour, but this event has always been considered one by the players because of the high purse.
Madelene Sagstrom is on pace to shatter every Symetra Tour record.
Madelene Sagstrom, the No. 1 player on the Volvic Race for the Card money list, is off to an amazing start this year. In her four starts this year she has finished 3rd, 2nd, 1st, and 5th. Sagstrom became the quickest to ever cross the $50,000 mark in earnings. With a win this week, she would move her season's earnings to $93,714, which would be less than one thousand dollars short of the all-time single season total in tour history. Sagstrom leads the tour in scoring average (70.615), and is third in driving distance (274.462). Only 2 of her rounds have been over par so far this year.
Other Tidbits:
In 2013 there were no $200,000 tournament purses on the Symetra Tour. There are five this year.
The Links at Stoney Point is a challenging test of golf. Wei-Ling Hsu won at 8 under par in 2014, while Alejandra Llaneza won last year at 10 under. Both are now LPGA members.
There are two players in the field, Nelly Korda and Madison Pressel, that have older sisters on the LPGA Tour.
UPDATE #1:
Madelene Sagstrom shot a 6 under par 66, setting a new course record, in taking a 3 shot lead in round 2.
UPDATE #2:
Sangstrom follows her 66 with a 67, and will take a 7 stroke lead into the weekend.
Here are the Final scores:
1 Madelene Sagstrom -10




2 Wichanee Meechai -4


T3 Pavarisa Yoktuan -3




T3 Ally McDonald -3




5 Shannon Fish +1




6 Marissa Steen +2




T7 Katelyn Sepmoree +3




T7 Peiyun Chien +3




T7 Jennifer Kirby +3




T7 Laura Gonzalez Escallon +3






For full scoreboard see link on top of page.
Follow @tonyjesselli on Twitter (Currently 1,462 followers)
Tweet