With the 2016 LPGA season just one month away, I think this is a good time to look at one of the most anticipated events of the upcoming season: The International Crown.
Chicago's Merit Club will host the 2016 UL International Crown
Before the International Crown was announced in January of 2013,the only competition between countries that the LPGA had on its schedule was the Solheim Cup. A competition between the United States and Europe. As a resident of the United States, it was my favorite tournament of the year. At the tournament's completion, it always made me sad that we had to wait two more years before it would be played again. But in truth, I was lucky that at least I got to see my country play. That could not be said for fans of players from South Korea, Japan, Australia, Thailand, and many other countries whose players could not compete.
With the announcement of the International Crown, all that has changed. Every country would now have a chance to compete. The tournament is played on even numbered years, while the Solheim cup will continue to be played on odd numbered years.
The final field of eight countries will be determined by the combined Rolex World Ranking of the top four players from each country as of the Rolex World Rankings published at the conclusion of the 2016 ANA Inspiration. (Countries must have a minimum of four ranked players to be eligible.)
The four players who will compete for each pre-qualified country will then be determined at the conclusion of the KMPG Women's PGA Championship in June. The highest ranked players from each of the eight countries as of the Rolex World Rankings on Monday June 13, 2016, will compete to see who will be crowed the best golf nation in the world.
Spain is the defending Champion, having won this event in 2014.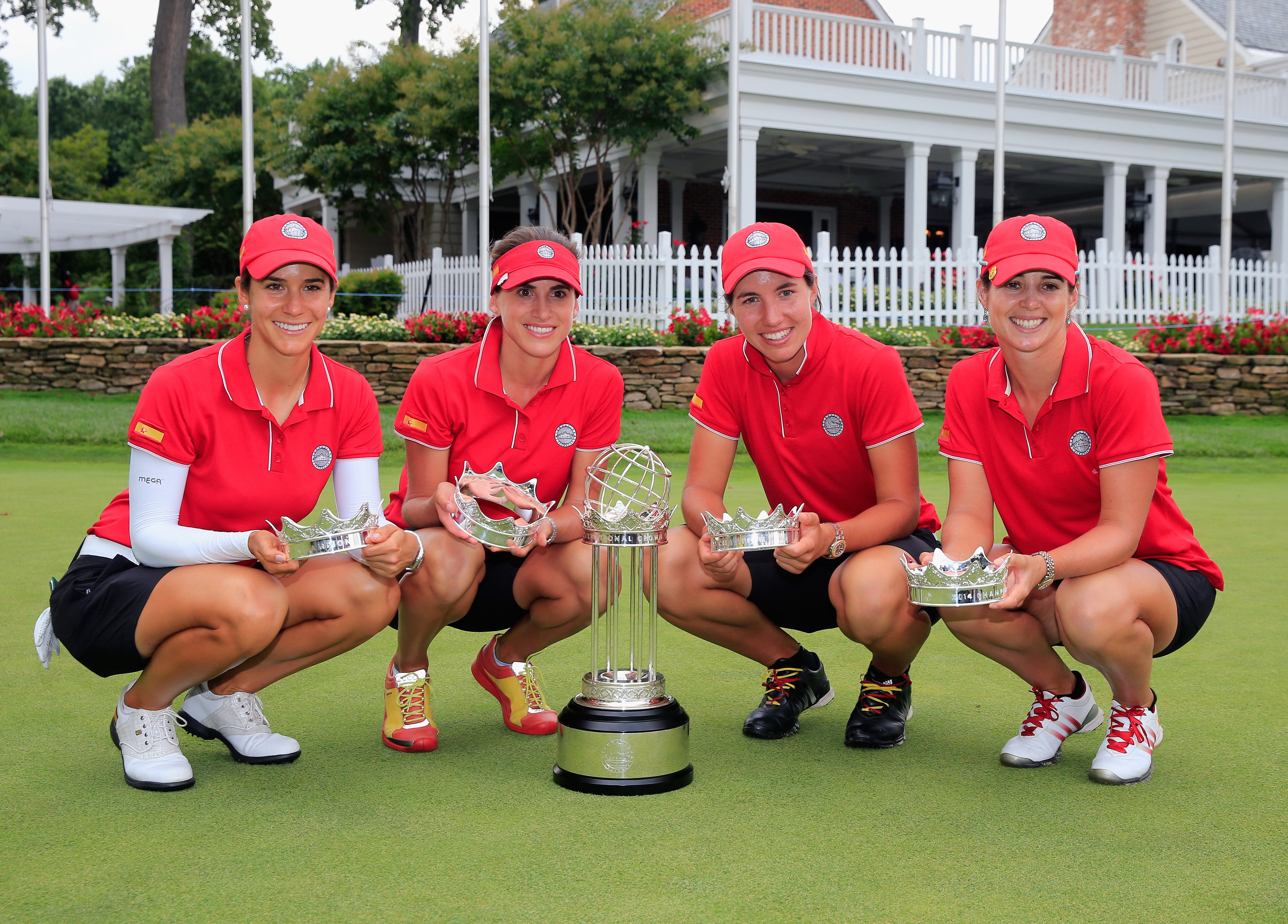 Defending Champion Spain would not qualify as of today!
Now it's time to take a look at the standings as they are today. Which countries would qualify as of right now. Here is a listing of the top eight countries with their top players' Rolex Ranking in parenthesis:
1- South Korea -22
Inbee Park - (2)
So Yeon Ryu - (5)
Sei Young Kim - (7)
Amy Yang - (8)
On the outside:
Hyo-Joo Kim - (9)
In Gee Chun - (10)
Ha Na Jang - (14)
Bo-Mee Lee - (15)
With 8 of the top 15 players in the world, this is going to be a dogfight to the very end to see which 4 players will qualify.
2- United States - 34
Stacy Lewis - (3)
Lexi Thompson - (4)
Cristie Kerr - (11)
Brittany Lincicome - (16)
On the outside:
Alison Lee - (23)
Morgan Pressel - (24)
Jessica Korda - (25)
Michelle Wie - (27)
It would certainly appear that Stacy & Lexi are in. It should be a fight for the remaining 2 spots.
3- Japan - 187
Shiho Oyama - (36)
Mika Miyazato - (37)
Momoko Ueda - (55)
Ayaka Watanabe - (59)
4- Chinese Taipei - 219
Teresa Lu - (20)
Yani Tseng - (38)
Candie Kung - (52)
Ssu-Chia Cheng - (109)
5- Sweden - 352
Anna Nordqvist - (13)
Pernilla Lindberg - (87)
Maria Mcbride - (112)
Caroline Hedwall - (140)
6- England - 368
Charley Hull - (41)
Melissa Reid - (83)
Holly Clyburn - (92)
Hannah Burke - (152)
7- Thailand - 372
Pornanong Phatlum - (43)
Ariya Jutanugarn - (63)
Moriya Jutanugarn - (107)
Thidapa Suwannapura (159)
8- Australia - 383
Minjee Lee - (17)
Karrie Webb - (31)
Rebecca Artis - (135)
Sarah Jane Smith - (200)
The above 8 countries would qualify for the International Crown as of today.
On the outside:
9 -China - 428
Shanshan Feng - (6)
Xiyu Lin - (53)
Jing Yan - (139)
Yan- Hong Pan - (230)
10- Spain - 433
Azahara Munoz - (29)
Carlota Ciganda - (51)
Beatriz Recari - (143)
Belen Mozo - (214)
It would appear that the top 4 countries are in. The real battle is going to be between the countries that currently hold positions 5 through 10. They will be fighting for the final 4 spots.
I will continue to keep everyone updated as we get closer to the above deadlines.
Follow @tonyjesselli on Twitter (Currently 1,370 followers)
Tweet