After a one week break the LPGA resumes its schedule with the playing of the U.S. Women's Open Conducted by the USGA.
Last year's tournament brought us a very exciting finish when Michelle Wie nosed out Stacy Lewis and Stephanie Meadow by two strokes, to win her first major Championship.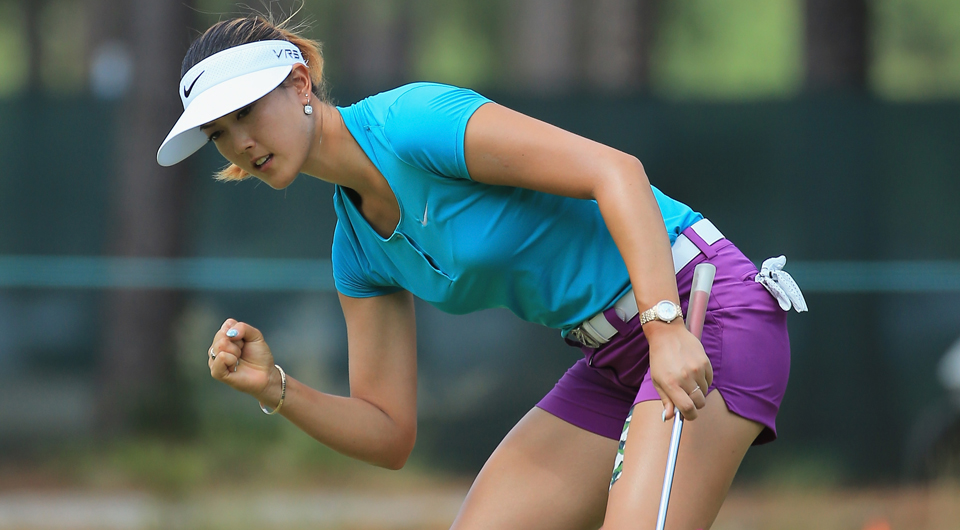 Michelle Wie pumps in a birdie on her way to her first major championship victory
This will be tournament #17 of 32 on the 2015 LPGA schedule, and the third of 5 major Championships.
Here are the key details:
Course: Lancaster Country Club
Location: Lancaster, PA.
Defending Champion: Michelle Wie
Winning Score: 68-68-72-70 = 278 (-2)
Final Field:
156 players (Cut = top 60 and ties)
Par: 35/56 = 70
Yardage: 6,383
Purse: $4,000,000
My strength of field rating is a gigantic 90.5% (up from 85% last year), making it the strongest field of the year thus far. Seventy-two of the top 75 players from the LPGA Priority list, and forty-three of the top 50 players from the Rolex Rankings will be teeing it up. Hee Kyung Seo, Se Ri Pak, and Ai Miyazato are the biggest names not in attendance. There will also be a number of highly ranked non LPGA members in the field. They include: In Gee Chung (#20 Rolex Ranked), Jung Min Lee (#23), Teresa Lu (#27), Brooke Henderson (#46), Yoon-Kyung Heo (#52), Misuzu Narita (#55), Gwladys Nocera (#65), Ai Suzuki (#71), and Erika Kikuchi (#76).
Here are the
pairings for the first 2 rounds
.
Here are the television times:
Fox Sports 1 July 9 - 2:00-7:00 p.m.
Fox Sports 1 July 10 - 2:00-7:00 p.m.
Fox Sports July 11 - 2:30-6:30 p.m.
Fox Sports July 12 - 2:30-6:30 p.m.
Here are my Pak Picker Picks for this week's tournament:
1- Stacy Lewis
2- Lydia Ko
3- Inbee Park
4- Hyo Joo Kim
5- Shanshan Feng
6- Lexi Thompson
7- Suzann Pettersen
8- Sei Young Kim
9- Na Yeon Choi
10- Minjee Lee
12- Anna Nordqvist
My accurate picking last week brought me my 5th straight top 6 finish. I am currently #1 in the standings among the 21 current participants.
My wife & I will be attending this event. Hope to see some of you there.
Be sure to check back here daily for any updates. They will be posted here, at the end of this blog.
Links to all live scoreboards appear at the top of this page.
Follow @tonyjesselli
(Currently 1,285 followers)
Tweet