As we wait for the start of the 2015 season, which is only three weeks away, I would like to look back at what I consider to be the top stories of 2014.
It was a very interesting and exciting past year. There were multiple teenage winners, exciting playoffs, miraculous comebacks, engagements, marriages, and a number of first time winners.
I have narrowed it down to ten, although I know there were many more. This list is very subjective, depending on who your favorite golfers are. A top story for me may be one that someone else might want to forget.
Please feel free to add your own in the comments section. I would like to hear your opinions.
So in reverse order, here we go:
10- Christina Kim Wins the Lorena Ochoa Invitational.
Normally winning this tournament probably wouldn't make this list, but it's the story within the story that makes this news worthy. Her problems were well documented. It appeared her golfing career (and maybe much more than that), were in a serious downward spiral. She started playing better earlier in the year and capped her season off with this extremely unlikely victory. Whether you're a fan of hers or not, this was a heart warming story
9- Hyo-Joo Kim Wins the Evian Championship.
Unless you are big fan of women's golf, you may not have known who she was. You do now. She had already won 8 times on the KLPGA Tour (and once on the JLPGA), and she isn't even 20 yet. She will be a 2015 LPGA rookie, and the favorite to win the Rookie of the Year award.
8- The LPGA Holds Its First International Crown.
Chalk up another success for Commissioner Michael Whan. The LPGA clearly needed a competition like this that gave all countries a chance to compete. It wasn't perfect, it could use a little tweaking, but it was hugely successful. Spain was the inaugural winner.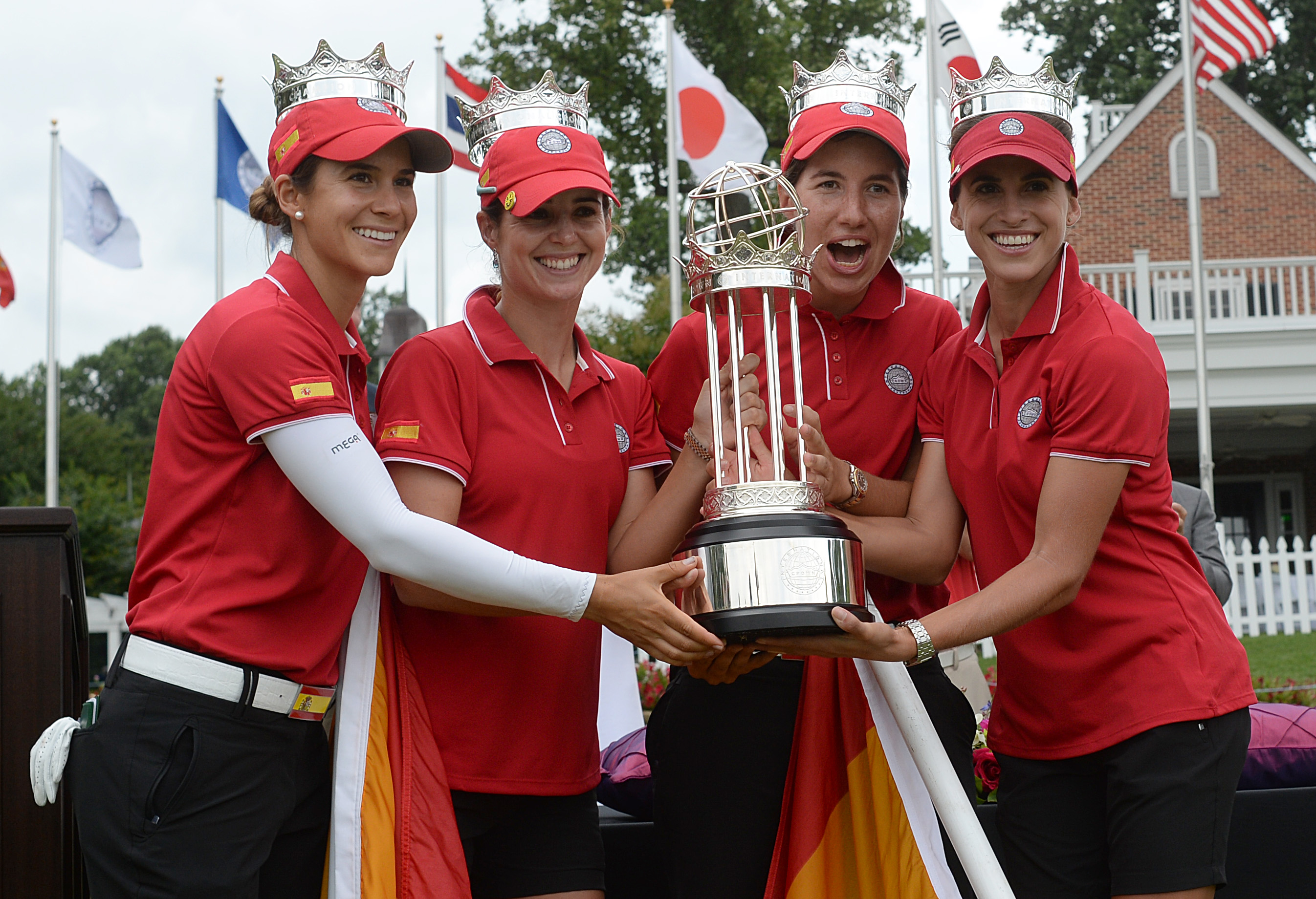 Azahara Munoz, Beatriz Recari, Carlotta Ciganda, and Belan Mozo Win It For Spain
7- Lydia Ko Wins the Race to the CME Globe.
It was a season long fight, and Lydia came up big and took home the one million dollar bonus. By the way she won that tournament also, her third win of the year.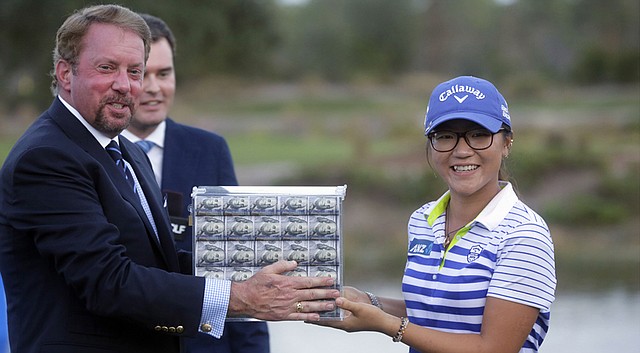 Lydia Ko Wins the CME Race to the Globe and One Million Dollars
6- Men & Women Play Back to Back at Pinehurst.
They said it would never work. There was severe criticism from the press, some fans, and even some of the players, when it was announced that the men and women would be playing their U.S. Open Champion on successive weeks on the same course. It turned out to be one of the true highlights of the 2015 season. LPGA ratings soared to new highs. Put another feather in the cap of Mr. Michael Whan, the best Commissioner in all of sports.
5- Paula Creamer Sinks Miracle Putt to Win HSBC Women's Championship.
We will be seeing this putt over and over again for years to come. It was in a sudden death playoff, it was 75 feet, it was for eagle, and it gave Paula her 10th career LPGA victory.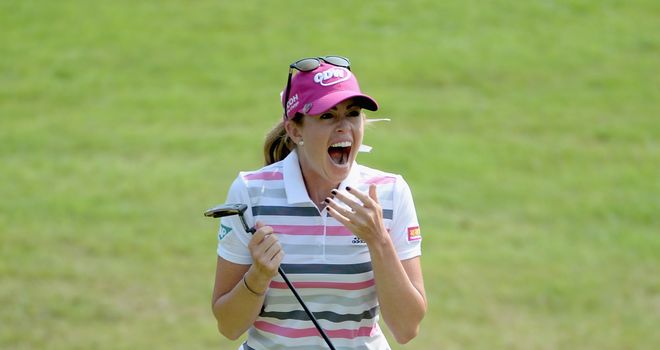 Paula Creamer sinks Miracle Putt To Win HSBC
4- Mo Martin Wins British Open.
I wonder what the Vegas odds were for Mo winning this championship. A career Symetra Tour player, nobody saw this coming. She did it in dramatic fashion, carding an eagle on the 72nd hole. By the way, all she did was nose out Suzann Pettersen, Inbee Park, and Shanshan Feng for the major trophy.
3- Stacy Lewis Sweeps All 3 Major Season Ending Awards.
Betsy King was the last American to do it, in 1993. Stacy Lewis Won the 2014 Player of the Year, Vare Trophy, and was the leading money winner. In doing so, she picked up an additional 2 Hall of Fame points.
2- Michelle Wie Wins U.S. Open.
It was a long time coming, but Michelle finally won that elusive first Major Championship. It could not have come on a bigger stage (see #6 above).
1- Lexi Thompson and Michelle Wie Go Head to Head at the Kraft.
Why do I have this as the year's biggest story? Because many people who weren't big LPGA fans, tuned in for that final Sunday round. It was a clash of two young superstars. One that we will be seeing many more times in the future. Lexi would go on to win her first Major Championship. In my opinion this was the turning point of the great 2014 LPGA season.
Follow @tonyjesselli
Tweet
(Currently 1,208 followers)