We are just about a week away from the beginning of the 2015 LPGA season.
With 34 tournaments on the schedule (including the Solheim Cup), this year promises to be the most interesting season ever.
Here are my top 30 picks for the 2015 LPGA Player of the Year: (last year's actual finish is in parenthesis)
1- Stacy Lewis (1)
- This one is really tough. I kept changing my mind. Any one of my top 4 players could finish here. I pick Stacy because I believe she wants that #1 Rolex Ranking back very badly and will come out of the gate faster than anyone else. I look for her to repeat.
2- Lydia Ko (3)
- Can she become the next Player of the Year? Of course she could. For the reasons I stated above, I think she will have to wait another year. It will help if she could win her first Major Championship.
3- Inbee Park (2)
- The 2013 winner, almost pulled it out again last year. I look for her to slip back ever so slightly into this position.
4- Michelle Wie (4)
- A late season injury prevented Michelle from contending for this title last year. Looking as comfortable as she has ever been on the LPGA tour, I see this as a 4 way race for the top, and yes, if healthy Michelle could win it.
5- Chella Choi (16)
- I will probably get some criticism for picking her this high. I just think she is ready to take her game to the next level. Look for her to get that elusive first LPGA victory this year, and it just might be a Major Championship. The talent is there, but as the slowest player on the tour, she needs to speed up her game.
6- Suzann Pettersen (12)
- If her back injuries continue to affect her game, then I am picking her too high. If she is healthy she is still a threat to win every week.
If healthy, look for Suzann to be among the best of 2015
7- So Yeon Ryu (6)
- I always feel that she should win more than she does. Contends on a regular basis, but has a difficult time finishing. If she could drop a few more final round putts, watch out!
8- Shanshan Feng - (5)
- One of the premiere players on the LPGA tour, she could finish anywhere from #5 to #10 on this list.
9- Hyo-Joo Kim (N/A)
- I haven't seen enough of her to make a real intelligent pick here. What I have seen is sure impressive. A rookie this year on the LPGA tour, she has won 10 times in Asia. The competition is stronger here, but look for her to finish in the top ten.
10- Lexi Thompson (7)
- It shows just how strong the LPGA is, when I can just barely fit her into my top 10. Lexi won her first Major Championship in 2014, but cooled off a bit after that.
11- Azahara Munoz (14)
- After a poor 2013, Azahara bounced back to have her most consistent year of her career. Still looking for that first stroke play victory (she won the Sybase Match Play tournament), I predict it will come this year.
12- Jessica Korda (10)
- She won twice last year but didn't do much of anything else. I need to see more consistency in her game before I can rate her higher. She has the potential to be a top 5 player.
13- Pornanong Phatlum (26)
- I am predicting many first time winners this year, and Pornanong is on the top of my list. Look for her to get to that next level this year.
14- Mirim Lee - (11)
- She won twice last year and didn't win the Rookie of the Year award because of a player named Lydia Ko. I don't think she will win twice again this year, but I do expect another solid year.
15- Brittany Lincicome (19)
- At the mid point of last season it appeared that her better days were behind her. She fooled us all by having a very strong second half. In fact, she had 3 top five finishes, and 5 top tens in her last 8 starts. When she is focused she is still one of the top players in the world. I look for a continuation of that 2nd half focus.
Will her hot second half of the 2014 season lead to big things in 2015?
16- Julieta Granada - (22)
- She had an excellent 2014 season, and I expect continued improvement this year.
17- Minjee Lee - (N/A)
- I know I may be getting a few Minjee Who? Those people will find out this year just how good this Australian rookie is. She could very likely be higher than this.
18- Anna Nordqvist (9)
- She won twice very early in the year and it appeared that she had regained that spark that had been missing in previous years. Unfortunately, the spark seemed to fade in the second half of the season and she was just another very good player.
19- Na Yeon Choi (23)
- She should be in the prime of her career, but she seems to be fading. I look for a slight improvement in her game this year, but there are too many good players to rate her higher than this.
20- Paula Creamer (18)
- Paula won her 10th career victory last year but did not have a very good season. Not up to our expectations anyway. She recently got married and that makes this year even harder to predict. Her days of being among the elite players have seemed to have come and gone. I hope I am wrong and she makes this prediction look foolish.
21- Karrie Webb (8)
- Speaking of looking foolish, Karrie makes me look that way every year. I keep predicting a decline in her game and it never happens. I'm going to be stubborn though, and predict that drop off in her game to come this year.
22- Cristie Kerr - (15)
- She did everything but win in 2014. Her putting just doesn't seem to be what it once was, and the fact that she is now a mother, both point towards a decline in 2015.
23- Angela Stanford (20)
- Just penciling her in about where she finishes every year.
24- Jenny Shin - (34)
- Has streaks when she looks like a top 10 player, then disappears for long stretches before resurfacing again. She is still only 22 years old, and I look for those good stretches to be longer this year.
25- Kyu Ju Baek (N/A)
- I will have a better chance of rating her when I get the chance to see her play. A rookie this year, she has already been ranked in the top 10 in the world. I am told by the experts that she is rated a notch below Hyo-Joo.
26- Charley Hull (N/A)
- Another 2015 rookie, but this one I have seen play many times. She earned a category 17 playing card (limited play) in Q-School, but look for that to change after the first re-shuffle when she will then get to play regularly. I am sure she will use her sponsor exemptions to play earlier in the year when she doesn't qualify. A future superstar!
27- Mi Jung Hur (24)
- It was a strong comeback season for MJ. I look for more of the same this coming year.
28- Ihlee Lee (37)
- After a horrendous first half of the season where she made very few cuts, she found her game and seemed to be in contention every week. I rate her game somewhere in the middle of those two half seasons.
29- Lee-Anne Pace
- (29) - She won her first LPGA tournament in 2014. A player that misses very few cuts, look for another solid season.
30- Kim Kaufman - (50)
- My surprise pick of 2015. She had a very solid rookie season in spite of not playing the first one third of the year on the LPGA Tour. I look for continued improvement in 2015.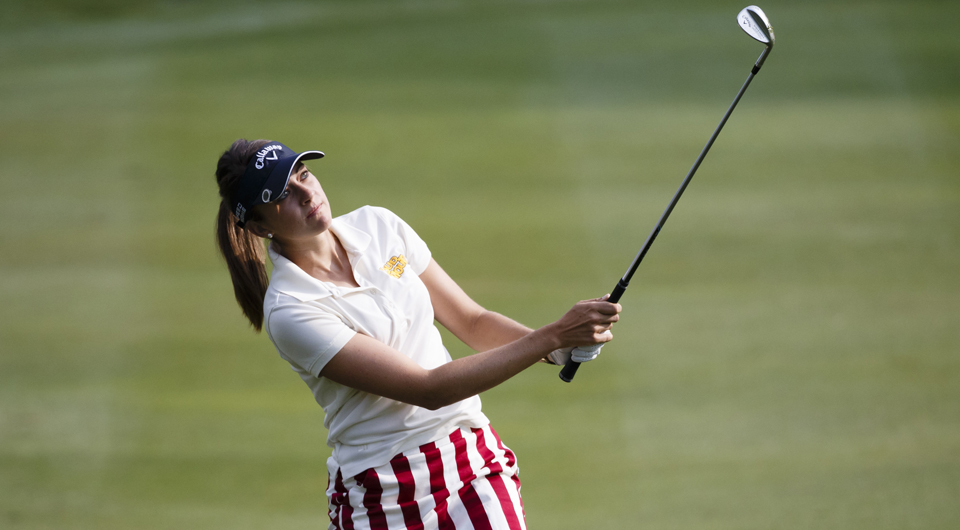 My surprise pick. Can Kim Kaufman break into the top 30 this year?
Player most likely to make me look foolish for not picking her - Ariya Jutanugarn.
Player that could be the biggest surprise of the season - Alison Lee.
Player most likely to disappoint - Sakura Yokomine.
Be sure to add your own picks in the comments section.
Follow @tonyjesselli
Tweet
(currently 1,213 followers)