It was another nail biter on the LPGA tour this past weekend. In what has been the case in just about every tournament this year, it came down to the very last putt on the very last hole. Minjee Lee birdied the 18th hole to squeak out a one shot win over Jessica Korda, who also birdied the 72nd hole. It was Minjee's second win of the season and third of her career.
This week the LPGA moves to Malaysia for the playing of the Sime Darby LPGA Malaysia.
Many may remember last year's tournament when Jessica Korda fired a final round 65, to win this tournament by 4 shots over Lydia Ko, Stacy Lewis, and Shanshan Feng.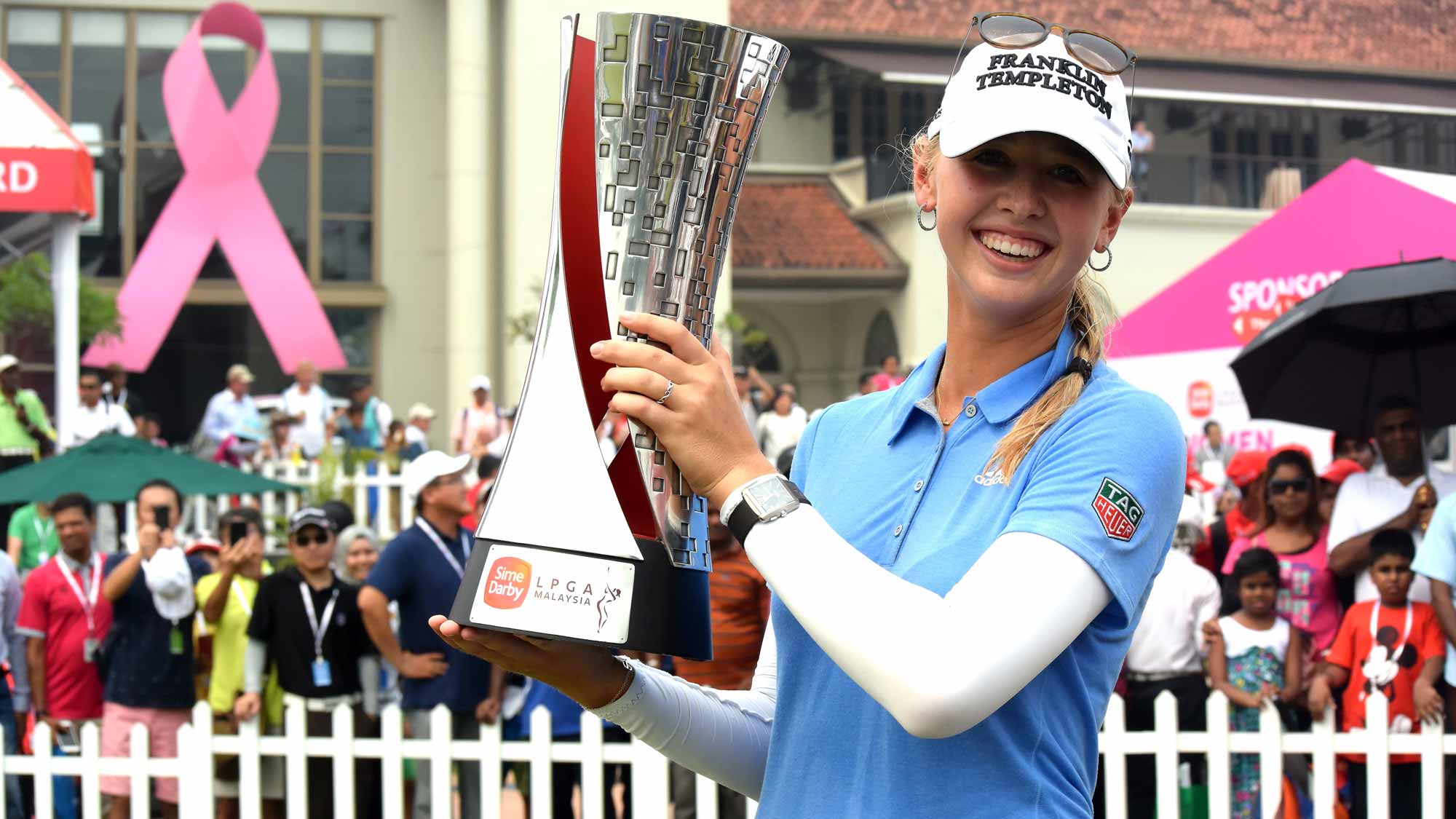 Jessica Korda holds up the winning trophy.
This will be tournament #30 of 33 on this year's LPGA schedule. It is also stop #5 of 6 on the Asian swing, which will conclude next week in Japan.
Here are the key details:
Course: Kuala Lumpur Golf and Country Club.
Location: Kuala Lumpur, Malaysia
Defending Champion: Jessica Korda
Winning Score: 69-67-65-65 = 266 (-18)
Final Field
: 78 players
Par: 35/36 = 71
Yardage: 6,260
Purse: $2,000,000
My strength of field rating is 58% (down from 70% last year). Thirty four of the top 50 players from the LPGA priority list (not used during the Asian swing), and 28 of the top 50 players from the Rolex Rankings will be teeing it up. The field will be led led by defending champion Jessica Korda, and will include both the number 1 and 2 players in the world, Lydia Ko and Ariya Jutanugarn. Players absent from this week's field include: Sei Young Kim, Lexi Thompson, Minjee Lee, and In Gee Chun.
I will post the pairings as soon as they are made available.
Here are the television times:
GC Thursday October 27 - 4:00 a.m. - 8:00 a.m. ET (tape delay)
GC Friday October 28 - 4:00 a.m. - 8:00 a.m. ET (tape delay)
GC Saturday October 29 - 6:00 a.m. - to 8:00 a.m. ET (tape delay)
GC Sunday October 30 - 6:00 a.m. - to 8:00 a.m. ET (tape delay)
Here are my Pak Picker Picks for this week's tournament:
1- Ariya Jutanugarn
2- Lydia Ko
3- Shanshan Feng
4- Brooke Henderson
5- Jessica Korda
6- Ha Na Jang
7- Amy Yang
8- Stacy Lewis
9- Mirim Lee
10- Carlota Ciganda
11- Mi Jung Hur
12- So Yeon Ryu
My alternates are: Chella Choi, Gerina Piller, and Candie Kung.
I was the winner of last week's contest, and with 4 weeks to go in the season have clinched a first place finish for the year.
Other Tidbits
:
Michelle Wie's top ten finish this past weekend was her first in her last 47 starts.
Brooke Henderson becomes the first LPGA player to record 15 top ten finishes this year.
After missing 7 consecutive cuts, Mariajo Uribe has recorded 2 consecutive top ten finishes.
Rolex Movers of the Week
:
Minjee Lee jumps up from #17 to #15, while Jessica Korda surges from #32 to #27.
Race to the CME Globe
: (1 million dollars)
For the first time this year, Lydia Ko does not have the lead. Ariya Jutanugarn now leads with 4,416 points, Lydia follows with 4,226. Brooke Henderson remains in third with 3,186 points.
Who's Hot:
Ariya Jutanugarn has finished outside the top twenty just once in her last 19 starts.
Carlota Ciganda has 3 consecutive top ten finishes.
Who's Not
:
Sun Young Yoo has not finished better than 56th in her last 8 starts.
Be sure to check back here daily for any updates. They will be posted here, at the bottom of this blog.
Links to all Women's Tour scoreboards can be found at the top of this page.
Follow @tonyjesselli on Twitter (Currently 1,502 followers)
Tweet