The Final Stage of the LPGA Q
ualifying Tournament will be held Wednesday December 2 through Sunday December 6 at LPGA International - Jones & Hills Courses.

There will be 157 players in the field competing to earn LPGA membership for the 2016 season.
Players will rotate between the Jones and Hills courses over the first 4 days.
There will be a 72 hole cut made after Saturday's round to the top 70 and ties.
Sunday's final round will be played on the Hills course.
All players that finish a minimum of 72 holes will earn a Symetra Tour membership in Category D.
Players who finish in the top 20 will earn category 12 Priority List membership. This means that they will get to play in all full field LPGA tournaments. Players finishing 21-45 will get category 17 membership, which amounts to conditional playing privileges. The players in category 17 usually do not get into many LPGA events and will probably spend most of the 2016 season playing in Symetra Tour events. Charley Hull was the only Category 17 player this year who managed to retain her card and have full time playing privileges in 2016. Jing Yan did retain her card but is going back to Q-School to improve her status.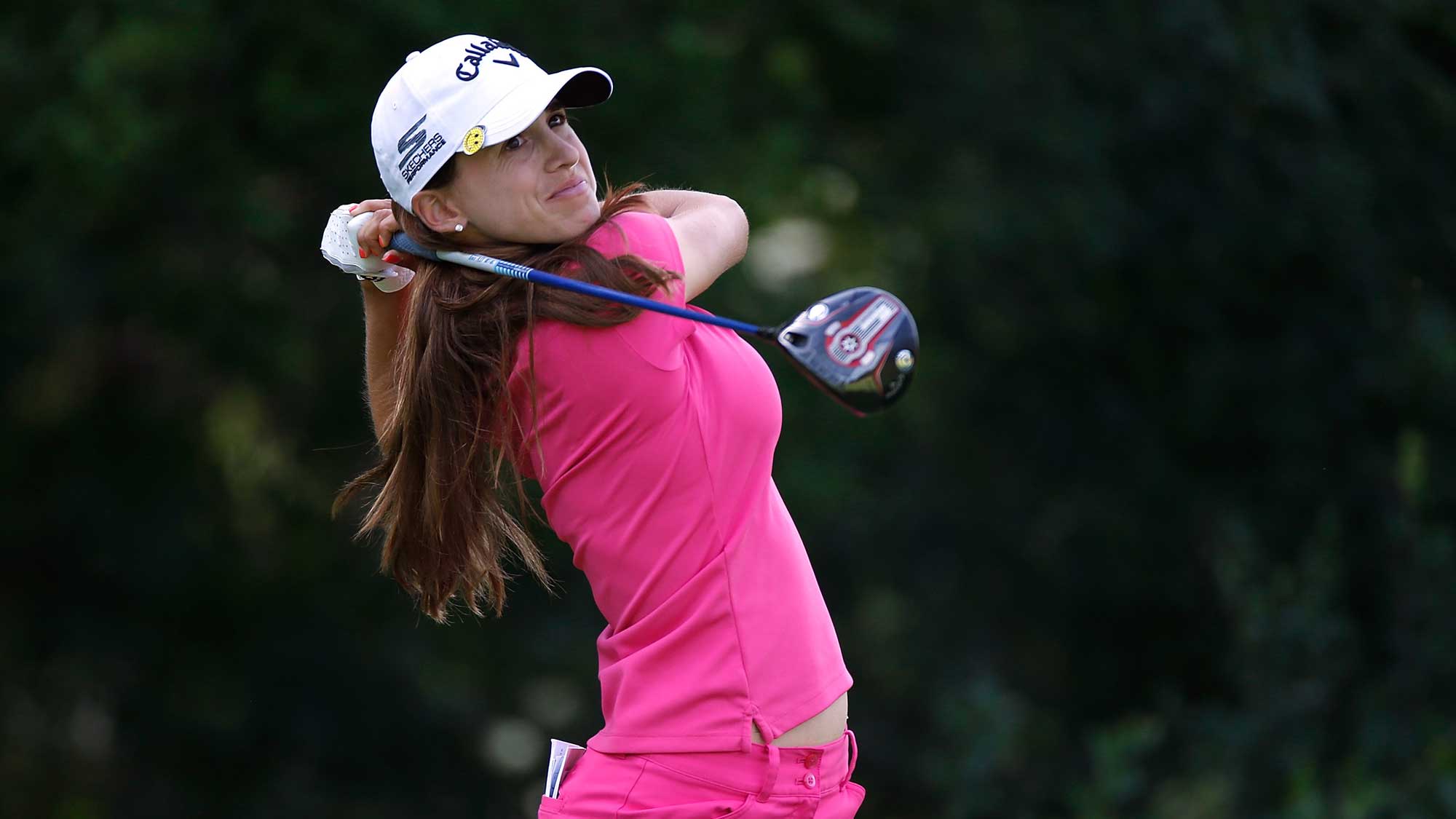 Belen Mozo will be going back to Q-School to improve her 2016 Priority Status
Looking back at last year's qualifying class, it was probably the most successful group ever when looking at their accomplishments on the LPGA tour in 2015. Sei Young Kim was the Louise Suggs Rookie of the Year. She won 3 times and posted 12 top 10 finishes.
Six players from the 2014 Q-School class finished in the top 50 on the 2015 LPGA money list: Sei Young Kim (#4), Ha Na Jang (15), Minjee Lee (16), Alison Lee (23), Ariya Jutanugarn (#35), and Sakura Yokomine (44).
There will be 2 players in the field that are currently ranked in the top 100 of the Rolex Rankings:
1- Nicole Broch Larsen - Currently ranked #75 (Copenhagen, Denmark)
2- Holly Clyburn - Currently ranked #90 (Cleethorpes, UK)
There
are 27 different countries represented this week including 74 players from the United States, and ten from both Thailand and Canada. There are 83 International players in the field.
The field will include 3 past LPGA champions in Heather Bowie Young, Silvia Cavalieri, and 4 time winner Lori Kane.
Pannarat Thanapolboonyaras of Thailand is the youngest player in the field at 17 years of age. She will not turn 18 until late December. There are also 6 players who turned 18 this year.
There will be sixty-one 2015 LPGA members in the field. They include: Chie Arimura, Victoria Elizabeth, Cindy LaCrosse, Kristy McPherson, Stephanie Meadow, Belen Mozo, and Cheyenne Woods.
Past medalists (finishing in first place) of LPGA Final Stage include: Paula Creamer, Ai Miyazato and Stacy Lewis. Jaye Marie Green won in 2013 with a record breaking score of -25. last year Minjee Lee and Alison Lee were co-medalists.
2015 stage 2 medalist Nelly Korda is not eligible for stage 3.
Here are my top 10 picks this week:
1- Belen Mozo (Spain)
2- Nicole Broch Larsen (Denmark)
3- Meghan Khang (United States)
4- Jeongeun Lee (South Korea)
5- Doris Chen (United States)
6- Stephanie Meadow (Northers Ireland)
7- Maude Aimee Leblanc - (Canada)
8- Holly Clyburn - (United Kingdom)
9- Cheyenne Woods - (United States)
T10- Madelene Sagstrom (Sweden)
T10- Gaby Lopez - (Mexico)
Be sure to check back here for any updates. I will post results when rounds are completed.

Follow @tonyjesselli
(Currently 1,325 followers)
Tweet